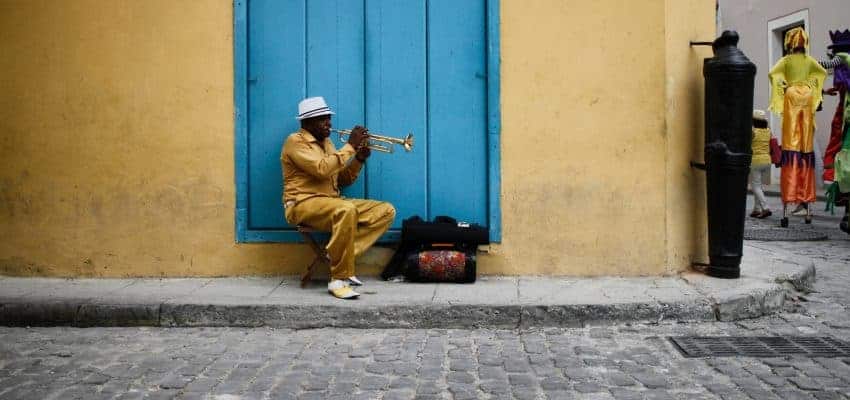 14 common trumpet mistakes beginners make
When you're starting out on the trumpet it's important to know the common mistakes beginners make so you can avoid them. You have enough on your plate without extra setbacks!
The good news is you're in the right place. Here are 14 common trumpet mistakes you should take care to avoid as you set out on your journey to master the instrument.
1. Neglecting to learn breathing techniques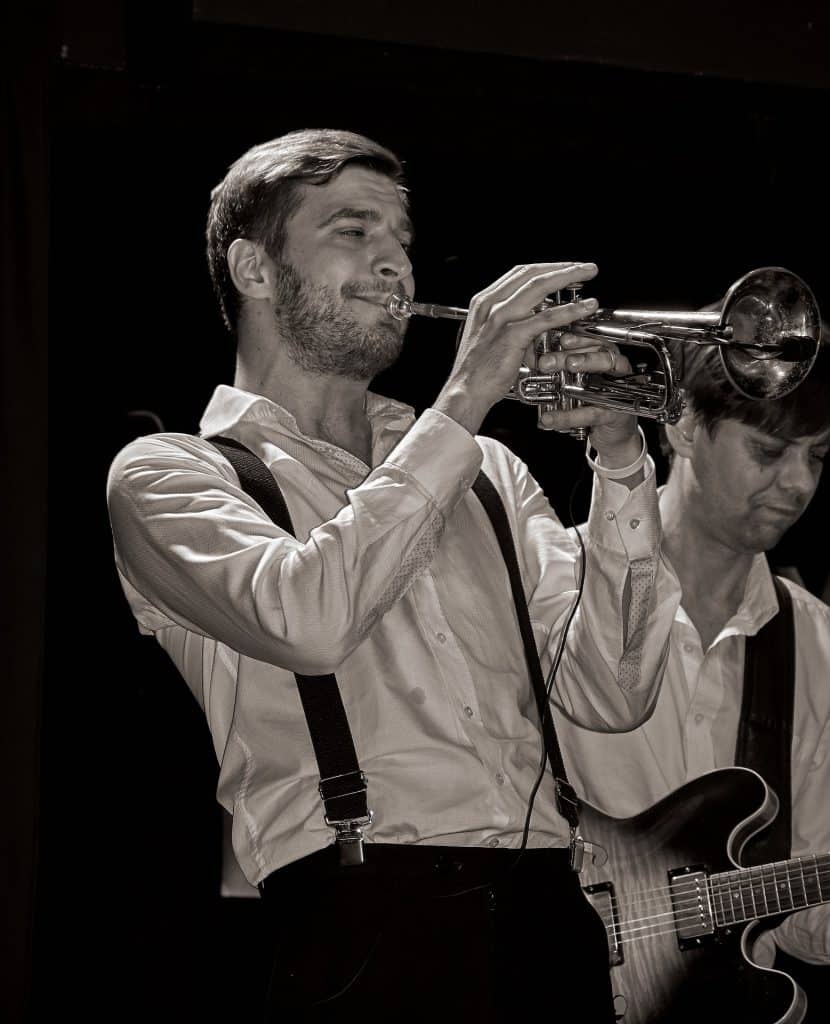 The basic breath technique for the trumpet is to breathe deeply, low into the abdomen. This is also known as belly breathing.
Beginners often breathe too shallowly and this can lead to light-headedness as well as producing an inferior sound.
More advanced breathing techniques include circular breathing, where you product a constant stream of breath by breathing in through your nose and pushing air out of your cheeks at the same time. But don't worry, this is not for beginners, so it's a topic for another day.
When playing make sure to keep a straight back and adopt a symmetrical posture that's comfortable and makes you feel relaxed.
Since posture affects the way you breathe, this is crucial. Improper posture restricts your breathing and leads to a more shallow breath, it can also lead to muscle soreness.
3. Buying a very cheap trumpet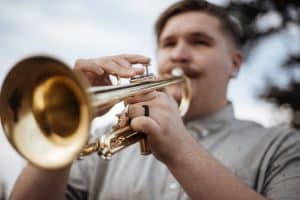 Most high-quality trumpets are expensive, so beginners will often decide to buy a very cheap trumpet with the intention of investing in a more expensive one down the track if they stick to learning.
This is a bad idea because cheaply made trumpets, even when new, can sound poor despite being played well. But beginners don't always know if it's their instrument or their technique at fault, and this can lead to frustration.
It's better to buy a slightly more expensive trumpet when you begin, or if you can't afford that, a second hand trumpet that was on the more expensive side when new.
The other option is to rent a trumpet. But whatever you do, avoid those super cheap trumpets at all cost.
4. Worrying too much about equipment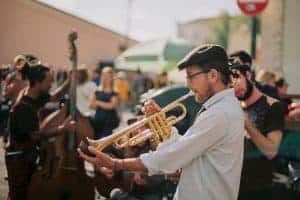 On the flip side of point 3, a common issue for beginners is getting too worried about having all the right equipment and ending up feeling overwhelmed.
As long as you're not getting the cheapest gear on the market, you'll be fine. Your ability to learn and perform doesn't depend on having the perfect mouthpiece, trumpet or other equipment.
What it does depend on is getting started, so don't let this pitfall prevent you from doing that.
5. Improper tongue position
This is actually a large part of what you'll learn as a beginner trumpet player, so we won't try to cover the learning here.
Suffice it to say, if you're trying to play the trumpet and you don't know what to do with your tongue, you've missed a vital building block and it's time to get the basics in place.
6. Not practising regularly
For practice to be effective in building skill and muscle memory it should be done regularly and on a schedule. Frequency trumps duration.
So, daily practice sessions of 15 minutes will help you progress more rapidly than two hours of practice every three days.
7. Not practising mindfully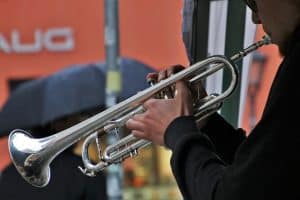 It's one thing to practise daily, it's another thing to practise absentmindedly. Practising for the sake of getting through your allotted time is… well… just a waste of time.
Practice should be purposeful and deliberate. If it's focused it will be fruitful.
8. Playing what you already know
It feels great to play pieces you're good at playing. However, sticking to pieces you've already mastered is a recipe for sabotaging your progress and getting in a rut.
Definitely play those pieces you've mastered, that's all part of the joy of the trumpet, but make sure you keep stretching to new, more difficult pieces to improve your skills and broaden your repertoire.
9. Getting distracted by a mistake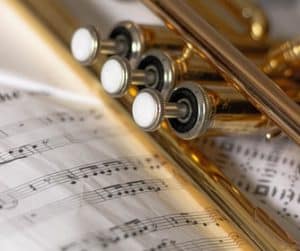 Mistakes happen and they sting the most during performances. Even experienced trumpeters make mistakes. The difference between a beginner and an experienced musician lies in how quickly the person recovers from the mistake. Experienced players learn to shrug mistakes off and use them to increase focus, but beginners can experience a shattering of focus following a mistake.
There's not really a shortcut to getting comfortable with making mistakes other than relaxing around them and performing often so you learn through experience.
Performing frequently to friends and family can definitely help though as they tend to be a highly forgiving audience.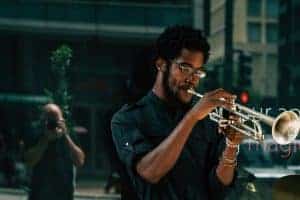 People who set out to learn the trumpet are often inspired by specific music genres where trumpets are a prominent instrument.
If this is you then it's a good idea to start out by learning pieces in those genres because doing so will help you stay inspired. But don't stay solely in those genres for too long as this may lead to neglection of skills and techniques that are used more in other genres.
Spread your pieces to cover different kinds of music. This will make you a more rounded and able trumpeter.
11. Holding the trumpet too tightly or loosely
If you grip your trumpet too tightly it will cause undue tension on your fingers which can affect your performance.
At the same time, if you hold your trumpet with too little strength it may cause you to drop it.
Beginners have to get to grips (sorry, couldn't resist) with what the right amount of pressure feels like.
12. Being afraid of asking questions
Learning involves a lot of trial and error but asking a question can shortcut that process and save you many bumps along the road.
There's nothing wrong with asking a question and there are no 'silly' questions.
So don't be timid, ask away.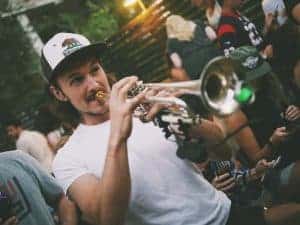 Being impatient can slow your progress or even stop it altogether. The reason for this is that impatience leads to rushing, which can result in the cultivation of bad habits, which in turn cause even more impatience.
Left unchecked this negative spiral often ends in students doubting their ability to learn the trumpet and giving up.  
Just like any other instrument, you need a lot of patience to learn how to play the trumpet.
Remember to breathe, take things slow and seek help if you get lost. If you do those three things, you'll make it, just trust the process.
14. Being too much of a perfectionist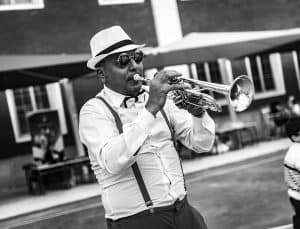 Perfectionism is a recipe for frustration. Having unrealistic expectations of yourself will only lead you to be discouraged and dissatisfied with your progress on the trumpet.
Leave this at the door when you practise, no one goes from crawling to sprinting overnight. 
It's the same with the trumpet.
Final thoughts on common trumpet mistakes
Starting out on an instrument like the trumpet offers enough challenges without having to deal with avoidable ones too.
But by keeping the common mistakes we've covered here in mind, you will be able to navigate around pitfalls that many other beginner trumpeters stumble over.
All that's left to say is that we wish you the very best in your trumpet learning journey.