Free Online Music Education Tools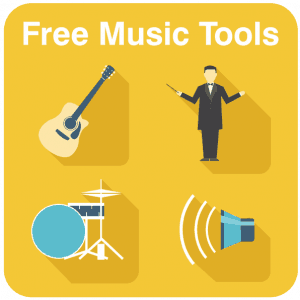 Welcome to our suite of music education tools and resources.
The entire suite is free to use and designed to be mobile-friendly.
We believe that having free, easy access to quality tools and information is the right of every music student and musician.
That's why we don't hide these resources behind a 'members-only' area.
May they serve you well!
The easiest and fastest tool to find the chord you're looking for on the piano or keyboard.
Our free online piano chord dictionary is mobile-friendly.
Want all the major and minor chords?
Need to see multiple inversions of each chord?
Want just about every chord variation known to man?
Need to visualise notes on the keyboard?
Our piano chord finder covers all bases. Click here.
This tool is the ideal starting place a beginner to the ukulele or guitar. Simple chord charts including:
Chords by root note
Chords by family
Chord progression builder
Flip the charts for left-handed views
Start strumming your first chords today, click here.
A huge guitar chord dictionary at your fingertips presented with an uncluttered, clean design.
Common chords list
Virtually every chord type by family
Right or left-handed (or even upside down!)
The perfect tool for those tricky songs you love. Click here.
Great sounding tracks which make your improvisation practice a load of fun.
The tracks loop so you won't be constantly stopping to press play.
Rock, blues and jazz tracks
Keys of A, E and D
Real instruments (not a synthesizer in sight)
Works on both desktops and mobiles
Now you can improvise solos anywhere, anytime! Click here.
Can't wait to get started on guitar?
We've got you covered…
What are you waiting for?
Multiple free lessons
Two of the world's top video lessons providers
Hours of free learning
Loads of fun
These are quite simply the best free lessons on the internet. Click here.
Being a network with thousands of professional teachers, we know a thing or two about practice.
Once you know the tips and tricks that really help, you're ahead from day one.
In this eBook, we lay it all out for you.
What you need to know
How to approach practice to win
Common mistakes to avoid
How to utilise the 'tipping point' principle
Don't start practicing without it! Click here.
Parents… we get it.
How do you give your child every chance to succeed with their instrument or voice?
What ways can you make a real difference to the outcome?
Fortunately, that's exactly what we've included in this eBook.
What your role is
Top tips for success
How to give your child the best set up
What they really need from you
Become a super music parent today, click here.
Sometimes words of wisdom can give you that little boost which keeps you on track.
We understand.
That's why we spent many (so many) hours curating the best music quotes in history and lovingly placing them in shareable images.
Best music quote images around
Hand curated and verified
Easy to share on social (come on… share the love)
Classical and contemporary categories
So next time you need inspiration, or to inspire someone else, just click here.
You love your devices but you also want a good, old fashioned music folder with all your chords, scales and songs in it.
We feel the same.
So we went ahead and created 13 printable sheets to get your music folder off to a flying start. Included are:
Blank staff and tablature templates
Blank chord charts for guitar and piano
Open and barre chord charts for guitar
Major and minor chord charts for piano
Pentatonic, blues, major and minor scales for guitar
These are high-quality learning sheets provided 100% free. Click here.