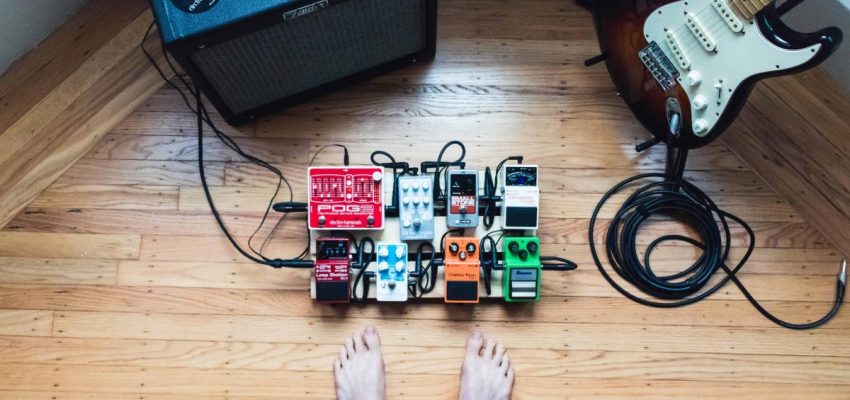 Guitar pedal guide for beginners (keeping it simple)
In this guitar pedal guide for beginners you'll learn exactly what you need to know to get started with pedals and no more. The topic of guitar pedals is actually very large, with whole forums devoted to it, but we know it can be overwhelming for newcomers, so think of this guide is your introduction and foundation on the topic.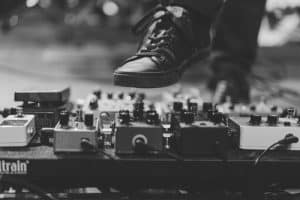 Guitar pedals or effect pedals are also called effect units or stomp boxes. They are used to alter the sound your electric guitar makes in a specific and controlled way.
Examples of guitar effects pedals include delay, wah, tremolo, chorus, distortion and fuzz.
Choosing your first guitar pedal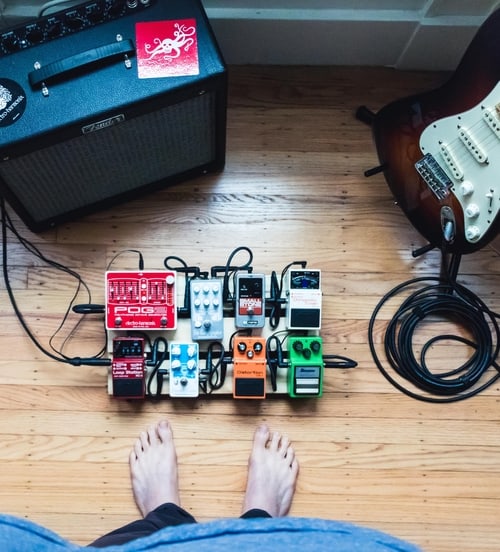 Before explaining how to use guitar pedals, it's worth pausing for a recommendation on which one is a good first pedal for beginners.
There are several guitar pedals to choose from but if you don't know where to start, we recommend a distortion pedal.
Distortion pedals are a safe option, allowing you to switch between a clean sound and a distorted one using your feet. They're fun and intuitive to use, which is why they're our recommendation.
Further down in the article we give you an overview of the common types of guitar pedal where you can hear this pedal in action
1. Power up your guitar pedal
Most guitar pedals have two power options.
For portability, you can use a 9-volt battery to power it up or you can directly connect it to an outlet using an AC adapter.
2. Connect it to your guitar and amp
Run one 6mm cable from your guitar to the input jack on your guitar pedal then another from the output jack on your pedal to the input of your amplifier.
3. Turn your guitar amplifier on
Make sure that all the cables are connected properly before turning your amp on.
If you turn on your amp first then connect the cables, you risk damaging your amp because very loud popping noises often happen when plugging in.
4. Set your guitar pedal's knobs to the default settings
This is usually at zero point. Test that your guitar pedal is on by engaging the foot pedal.
5. Adjust each knob to determine its effect on your guitar sound
For a more detailed explanation of how this works specific to the guitar pedal you've chosen, consult the user manual included with your purchase or look for a video guide on YouTube.
Guitar pedal guide for beginners:
20 types of guitar pedal and their sounds
Distortion pedals, as you can tell from the name, distort the sound your guitar produces.
They give your guitar a much more aggressive sound by providing you with a good amount of sustain and crunch as you play.
An example of this is the Boss DS-1 Distortion pedal, featured in the video.
In terms of sound, one example (of many) is Muse's song Hysteria. Distortion pedals are often used for rock, pop and metal music.
Can be similar to a distortion pedal, where the sound produced mimics a tube amp turned up too high, or can simply produce a gain boost which overdrives the valves in your amp to get the original overdriven sound.
An example of this is the Boss BD-2 Blues Driver Overdrive.
In the intro of Around The World by Red Hot Chilli Peppers, you can hear that an overdrive pedal has been used for the recording.
Overdrive pedals are often used for pop, rock, metal, country and blues music.
Fuzz pedals are like distortion pedals, but the effect they create sounds like your amplifier is being pushed to the extreme and is about to blow up. Not everyone's cup of tea, but for some musicians, this is exactly the sound they want.
The video above will take you through some of the fuzz pedals on the market.
Jimi Hendrix used the fuzz pedal for the song Foxy Lady, you can learn more about Hendrix in our electric guitar history timeline article.
Fuzz pedals are often used for rock, pop and metal music.
Boost pedals increase the signal without the distortion you get from distortion pedals. A boost pedal will push your amp to produce a more robust sound without going so far as to break the sound up (unless you purposely set it up to do that).
An example of a boost pedal is the Supro Boost.
The sound that a chorus pedal produces is like having multiple guitarists playing along with you but just slightly out of sync with your lead. That's why it's called a chorus pedal, resembling the way people sing together in a chorus.
An example of a chorus pedal is the Electro Harmonix Small Clone. The Police uses chorus pedals in their song Walking On The Moon.
Chorus pedals are often used for rock, jazz and pop music.
A wah pedal, not surprisingly produces a 'wah' sound from your guitar. It does this by enabling you to quickly change the tone of the guitar sound via a foot pedal.
An example of a wah pedal is the Dunlop GCB95 Crybaby Wah.
Jimi Hendrix uses the wah pedal for his famous song Voodoo Child.
The wah pedal can be used for a wide range of genres including rock, blues, reggae, pop and metal.
Delay pedals take your guitar input signal and delay it to a varying degree depending on your settings. This creates a doubling effect when you play the guitar, as if everything you play is echoed one or more times.
An example of a delay pedal is the MXR Carbon Copy.
Edge from U2 uses delay pedals on his performances. Delay pedals are used for reggae, pop, rock and metal.
Reverb pedals produce echo sounds similar to playing in a room, hall, church or even a cave.
A great example of this is the BOSS RV-6 reverb.
You can hear reverb in Led Zeppelin's When The Levee Breaks. Reverb is a a very versatile pedal effect which you can use for pop, blues, jazz, country and reggae.
Flanger pedals, like chorus pedals, thicken the sound of your guitar but they also apply a phasing sound which is generated by the tone being adjusted on a time-based loop.
A great example of a flanger pedal is the TC Electronic Vortex Flanger.
The Beatles used a flanger pedal for the song Tomorrow Never Knows. Flanger pedals are commonly used for rock music.
Similar to both flanger and chorus pedals, the phaser pedal thickens the guitar input but it also adds an effect similar to a flanger, with the difference being that the phaser tone loop is based on frequency while the flanger is time-based.
An example of a phaser pedal is the MXR Phase 90.
Van Halen used a phaser pedal for the song Ain't Talking 'bout Love. Phaser pedals are commonly used for rock music.
Tremolo pedals give you a sound which is like the volume being turned up and down very quickly after you play a note.
One of the best tremolo pedals is the BOSS TR2 Tremolo.
R.E.M used a tremolo pedal in the song Crush with Eyeliner. Tremolo pedals are commonly used for rock and pop music.
Looper pedals are not exactly effect pedals, but instead record a segment of your playing then loop this back when you press the pedal. This allows you to overlap with the recording and create music with yourself.
An example of this is the BOSS – RC-20XL Loop Station.
The White Stripes used a looper pedal for their song Seven Nation Army and Ed Sheeran used it extensively on his album Divide especially on the songs Shape of You and Castle On The Hill.
Looper pedals are used for all types of music and are popular for one-man-band acts.
Compressor pedals 'compress' the sound a guitar makes so that all of the notes can be heard at the same volume. This can be very useful for playing live, because your sound will come through consistently and everyone will be able to hear you at all times during a dynamic song.
A good example of this is the MXR M102 Dyna Comp.
A compressor pedal is used in the song Chocolate by The 1975. Compression pedals are used for rock, blues, jazz, country and pop music.
Pitch shift pedals double the notes produced by the guitar and move the pitch of the second note higher or lower at the note interval you set.
An example of this is the Valeton OC-10 Octave pedal.
Queen's Innuendo uses a pitch shift to create an octave-harmoniser for its repeat. Pitch shift pedals are often used for rock music.
If you want to avoid using the volume control on your guitar to free up your strumming hand, you can use the volume pedal to manipulate the volume hands-free. Volume pedals are also good for fade ins and fade-outs.
An example of a volume pedal is the Roland FV500.
Maiden used a volume pedal for their song Rime of the Ancient Mariner.
Acoustic pedals change an electric guitar sound into an acoustic one. This is perfect for performances when need you to transition between electric to acoustic.
An example of this is the Boss AC-3 Acoustic Simulator.
Tuner pedals don't add any effects to your guitar but simply enable you to keep your guitar in tune. This is essential if you're serious performer.
A great example is the Blaxx Tuner Pedal.
Equaliser pedals allow you to manipulate certain parameters of your guitar signal to your specific needs. These pedals enable you to change the bass, middle, and treble frequencies of your guitar.
An example of an equaliser pedal is the Behringer EQ Pedal EQ700.
Using effects pedals often creates a background humming noise that is noticeable. To block this, you can use a noise gate pedal that acts as a silencer when pressed while preserving your tone.
An example of a noise gate pedal is the Boss NS-2 Noise suppressor, featured in the video.
As the name implies, multi-effect pedals are pedals that produce a combination of effects on one device. Most of them offer a combination of all the effects listed above.
An example of a multi effect pedal is the Boss ME-50 Multi effects pedal, featured in the video.
Making & modifying guitar pedals
How to make your own guitar pedal
With all the gear available these days, making your own guitar pedal is fairly easy. Most of the parts you will need can be picked up from electronic shops or you can order what you're looking for online.
You do need to invest a little time studying the instructions on how to put it together, but there are numerous articles online to guide you.
Novices take note: you'll need a drill and soldering set to start this project, so if that feels a bit ambitious, you're probably better off just buying the pedal.
If you could solder with your eyes closed (something we in no way recommend), go for it. This video is a good starting point for anyone wishing to find out more about how to make guitar pedals.
How to modify guitar pedals
Modifying your guitar pedal to change its sound is a great way to produce bespoke effects that you just can't buy in a shop.
By adding or changing components of your guitar pedal, you'll be able to create some very different effects. If you're interested in modifying your guitar pedal, this video is a great introduction.
Closing out the guitar pedal guide for beginners
Guitar effects pedals come in a wide range of variations, enabling you to create a unique sound.
You're not just limited to one type of pedal, either. How you use guitar effects pedals will come down to what kind of sound you want to make.
The journey is one to be savoured as you lean on your influences and emerge with your own signature sound… and what fun that journey is!
Got any extra tips or advice for using guitar pedals? Leave us a comment. We'd love to hear from you.