Music Research Engine
Type in the name of an artist, band, composer, song etc.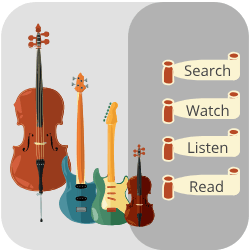 Music Research Engine is a world-first tool combining YouTube videos with Wikipedia content for engaging, self-driven learning.
By clicking on the links in the text you can browse deeply into the subject, make new discoveries and interesting connections.
For example, you might start by searching for Moonlight Sonata then follow a link to Beethoven and another to the classical period of music in general.
At every step, you'll watch the videos and listen to the music related to your search term and be able to click on links in the text to continue your learning journey.