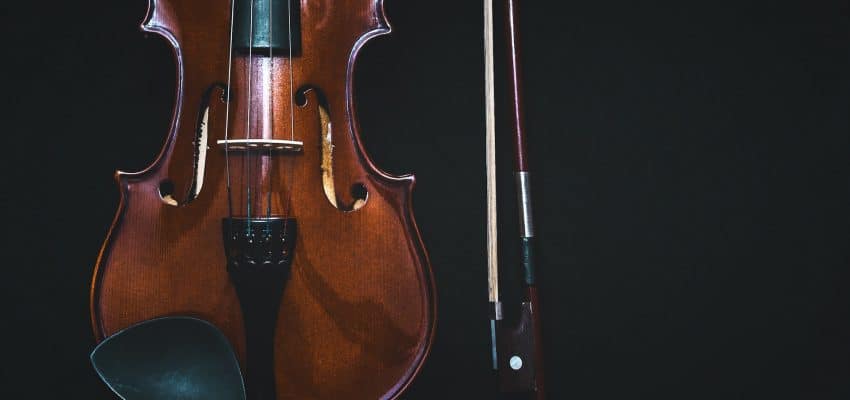 When was the violin invented? (Violin history timeline)
Learning a little about the history of the violin can be a powerful way to inspire yourself along your learning journey.
In this violin history timeline for beginners, we take a brief look at the major violin figures and provide videos so you can hear their work for yourselves.
But first… when did it all start?
When was the violin invented?
The first violin, in the form we know today, was built around the year 1550 by Andrea Amati in Northern Italy. Previous to this date, instruments similar to violins did exist, but they were not in the final form that would become the violin standard. This standard has not changed since 1550.
(1505 – December 26, 1577)
Andrea Amati is credited by historians as the person who first created the modern violin.
Here's a video of Sean Avram Carpenter playing on one of the original Andrea Amati violins built in 1559 in Cremona, Italy.
The piece is Gigue from Partita No. 2 in D minor by Johann Sebastian Bach (1685-1750).
(1644 – December 18, 1737)
Stradivari is a world-renowned Italian luthier of string instruments such as violins, cellos, violas, harps and guitars.
He is considered to have been the very best craftsman of violins the world has ever seen and his instruments sell for many millions of dollars.
In this video, Scott Yoo plays an excerpt from Vivaldi's The Four Seasons on a USD $15 million Stradivari violin.
(February 17, 1653 – January 8, 1713)
An Italian violinist and Baroque composer, Corelli became famous for his contribution to developing the modern genres of sonata and concerto and establishing the preeminence of the violin.
Corelli's concertos, Op. 6, were published in 1714 in Amsterdam and are considered some of his most important compositions. You can hear No. 4 played with the original instruments, as intended, in this video below by Voices of Music.
(March 4, 1678 – July 28, 1741)
Antonio Vivaldi was an Italian violinist, Baroque composer and an ordained priest. 
His most famous work was a violin concerto called Four Seasons.
With this work, he has become one of the most famous Baroque composers of all time.
(April 8, 1692 – February 26, 1770)
Tartini was a Venetian Baroque composer and violinist. His most famous work Devil's Trill Sonata which is famous for its technical difficulty.
(October 27, 1782 – May 27, 1840)
Niccolo Paganini was an Italian violinist and composer known for his extraordinary talent and technique on the violin. 24 Caprices for Solo Violin Op. 1 are among the best known of his compositions which have inspired many subsequent composers.
He is also known as the Devil's Violinist since legend has it he sold his soul to the devil in exchange for his incredible violin ability.
Here's a video of David Garret performing Caprice No 24.
(February 5, 1810 – August 17, 1880)
Bull was a famous Norwegian violinist and composer who was compared to Paganini during his time for his speed and clarity in playing.
Here's his piece, Violin Concerto in A major ("Grand Concerto"), Op. 4, which was his first violin concerto.
(March 10, 1844 – September 20, 1908)
Pablo de Sarasate was a Spanish violinist and composer during the Romantic period.
Sarasate was a young prodigy starting his first public concert at the young age of eight years old.
Among his most famous compositions are Zigeunerweisen, Jota de Pamplona, and La dame blanche de Boieldieu.
Friedrich "Fritz" Kreisler
(February 2, 1875 – January 29, 1962)
An Austrian violinist and composer known as the greatest violinist of his time.
He's renowned for a distinct sweetness of tone and expressive phrasing.
During his lifetime, recording technology matured, meaning we have recordings of his work such as the one in the video below.
(December 19, 1882 – June 16, 1947)
Huberman was a Jewish Polish violinist renowned for his distinctive tone and colour.
He is also known for founding the Israel Philharmonic Orchestra which provided refuge to Jews during the holocaust.
Here's footage of him playing, along with a performance of Nocturne Op.9 by Chopin.
(January 20, 1901 – December 10, 1987)
Heifetz was a Russian-born American violinist.
Another child prodigy, he was lauded when he performed at Carnegie Hall at the age of 16 and in the years following he became a sensation with his distinctive, instantly recognisable style.
In his later years, after an injury to his bowing arm, he switched his focus to teaching.
He's now considered by many to be one of the greatest violinists in history.
Final thoughts on the violin history timeline
We hope you found this introduction to the violin history timeline illuminating. Having a little knowledge about the figures who influenced the development of your instrument can be great for motivation. Now you know you're part of a tradition dating back 500 years in its present form and that's a wonderful thing.
We wish you all the best in your violin learning journey.