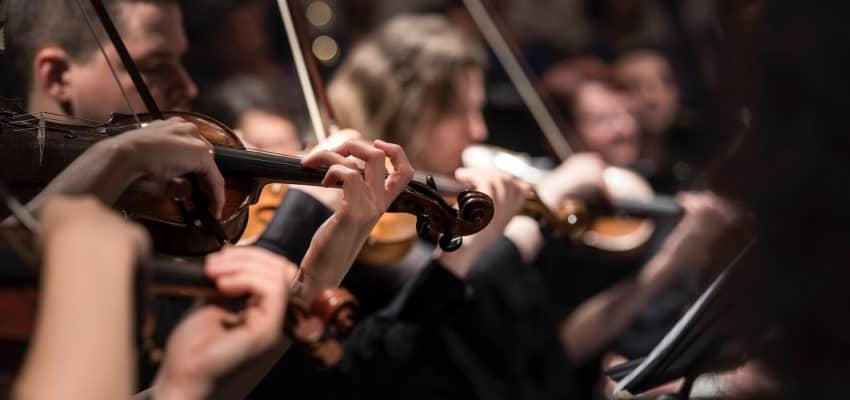 12 Viola tips for beginners
When you're starting out on the viola, a little knowledge goes a long way.
Practical, useful tips can make the difference between a good start and one which makes you question whether the instrument is right for you or not.
In this article, we arm you with exactly what you need to make the very best of starts.
1. Schedule practise for when you feel most energetic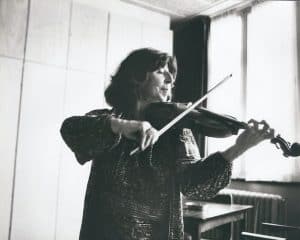 Getting off to a winning start on the viola is all about stacking the odds in your favour. So we're starting with the practical stuff.
If you're a morning person, schedule your practise for that time. If your energy peaks in the afternoon, then that's your window.
The bottom line of this tip is to take advantage of your natural energy levels to make practising your viola easier.
2. Keep your practise area free from distractions
Another super practical tip, especially in this day and age.
Place your phone on silent, clean up any clutter in your practise space, and have everything you need at hand when you practise.
Keeping your space free from distractions will lead to higher quality practise time.
Given the choice between practising the viola frequently or practising less frequently but for longer durations, it is better to choose the former.
Studies show that frequency trumps duration when it comes to the overall level of improvement.
4. Warm-up before playing viola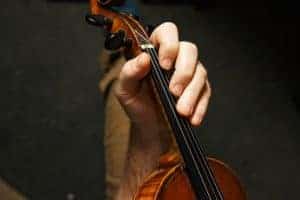 Playing the viola involves repetitive movements, tensing and flexing of specific muscles in a way that can apply quite a strain.
This means you'll benefit from warming up those muscles before practise. A short warm up, even if it's as simple as stretching your fingers, may help prevent injuries and make your practise easier.
5. Record yourself practising (and listen afterwards)
A great way to identify areas you need to improve is to record yourself playing.
In this way you can put yourself in your audience's shoes and hear what needs to be improved.
Most smartphones ship with a simple audio recorder installed, but there are plenty of free ones in the app stores if yours doesn't come with one.
To practise your timing and rhythm, the best tool in your arsenal is a metronome.
If you do not have a metronome at hand, you can use our free online metronome from your desktop or mobile.
7. Avoid looking at your fingers
When you first start learning the viola, it's natural to constantly look at your fingers.
Once you feel able to though, start to look ahead at your sheet music, or a person or object in the room, as this will help you to connect your hearing with your finger position, which is a better way to find perfect pitch.
Ultimately, it's also a more polished, professional look to be able to play without staring at your fingers.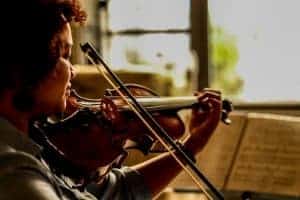 Whenever possible, perform in front of others.
Not only will it count as practise, and practise under pressure at that, but it's also a great way to develop confidence.
9. Break your viola music down
Instead of attempting to play a piece of music from start to finish when you practise, a better idea is to break it down into manageable chunks.
By doing this you'll be able to master a piece of music faster and easier because you'll become intimately familiar with each section.
This way of practising also means you can get quickly back to problem passages and master them, rather than having to play from the start each time which is a less effective use of your practise time.
10. Practise without sheet music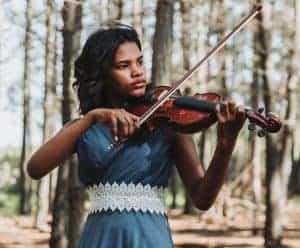 A great way to sharpen your performance is by memorising your piece of viola music.
Once you get a hang of a piece of music, try playing it without the sheet to see if you can recall it by memory.
It may sound strange, but memorising a song actually makes you learn it in a different way, you visualise it differently when playing back from memory, and that has it's own benefits.
11. Troubleshoot as you practise
Whenever you practise make an effort to be the listener as well as the performer. This will enable you to spot and correct any mistakes as you go.
It's much better to handle mistakes in real-time rather than engraining them into bad habits.
If you couple this with tip 5 (recording yourself and listening back later) then you'll actually be training yourself to pick up issues in your viola performance as they happen that you might previously have missed.
12. Play fast and also play slow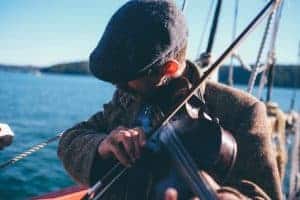 Our last tip is a great one.
By playing your viola music really fast, you will learn dexterity and accuracy of finger movements, and lock in the note patterns to muscle memory.
But by playing it really slow, you will perfect pitch and vibrato.
Don't just stick to the tempo of a piece, try it fast and slow to gain additional learning.
Final thoughts on viola tips for beginners
This article is full of practical tips that really help. We could have thrown in many other obvious ones such as: stop practising when your fingers hurt… but we know you'd do that anyway, so we left it out.
By practising smartly using the above tips, we are confident that the start you make on your viola learning journey will be a good one.
And with that, we wish you all the best.