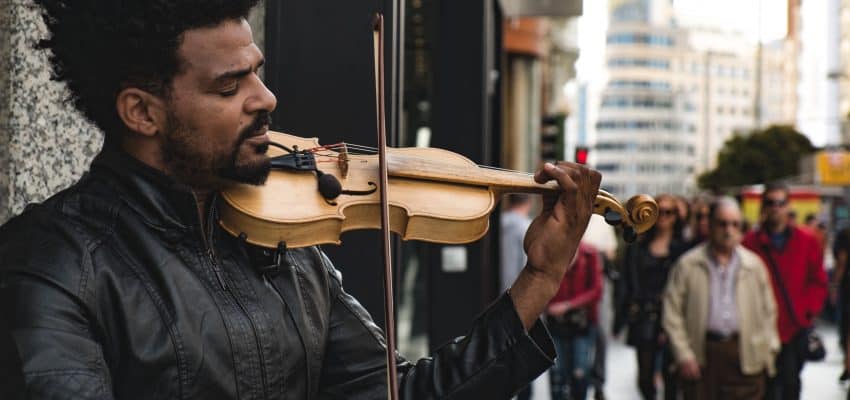 12 top violin tips for beginners
The violin is a beautiful sounding instrument in skilled hands but also one that can be tricky for beginners. Those new to playing the violin can lose heart if the sound they produce in the early days falls short of where they're aiming.
These 12 violin tips will help you speed up that initial learning curve by making practise sessions more efficient, getting you swiftly to the sound you dream of making.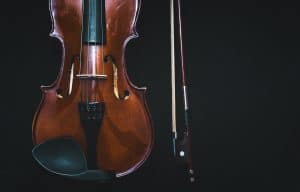 There's nothing worse than being ready to practise your violin only to realise that your equipment is not ready for you.
Make sure you have all you need ahead of time. This includes extra violin strings, rosin, a music stand, and a metronome.
Doing a simple warm-up prior to performance or practise helps to get your ear tuned-in and your hands and arms warm and ready to play. 
Not only will a warm-up make you perform the violin better, it also allows you to play longer without as much fatigue.
3. Practise when you have energy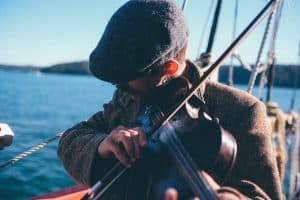 When scheduling your violin practice sessions, a great tip is to have them coincide with times of the day when your energy level is high and your mind is clear.
If you're a morning person, practise the violin in the morning. If night is more your thing, you know what to do… just don't do it too late if you have neighbours!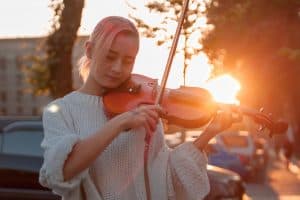 As a beginner, it's tempting to play as fast as possible, but this temptation is best avoided. 
Rushing your practise increases the likelihood of learning the wrong technique which will cause issues down the track and eventually need to be corrected. To avoid this, focus on accuracy and technique, and take things slow.
5. Use the right amount of rosin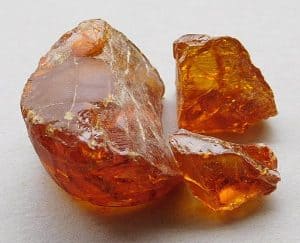 Rosin is tree resin which is applied to the violin bow to achieve the right amount of friction between the bow and the strings to create the sound.
Using too much will produce a scratchy tone while using too little will mean there's not enough friction, limiting the amount of sound your violin will produce. Aim for somewhere in the middle.
Using a metronome is a top tip for beginners of any instrument. It helps you to develop your timing, which is critical to playing with other musicians, and challenges you to play at different tempos.
Owning a real metronome is a good idea, but not essential as you can always use our free online metronome from your mobile or any other device.
7. Record yourself practising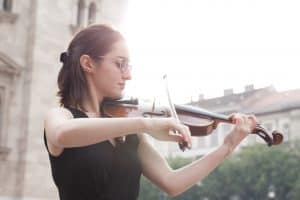 Recording yourself practising and listening afterwards will help you to identify points of improvement you can work on.
It's also constructive to get used to how your violin playing sounds to others as it's a little different to how it sounds while you play due to the proximity of your ear to the instrument.
8. Listen to artists you admire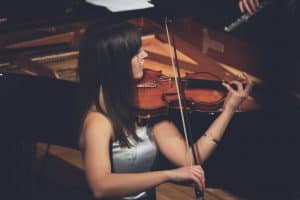 Listening to your favourite solo violinists, ensembles and orchestras is such an important tip, it's almost essential.
Not only does this keep your inspiration level high, it also gives you sounds and techniques to mirror which is a way to fast track learning.
By listening to interviews and reading about the artists, you will learn about their influences which will help you to expand your stylistic choices.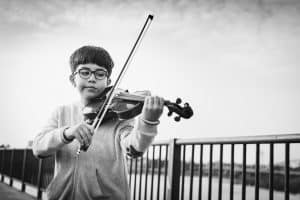 Whenever you practise long pieces of violin music, it's important to break it down into smaller, manageable chunks.
The reason for this is that it enables you to stop after a mistake and start that section again, rather than starting again all the way from the start. This means you get back to the problematic part more swiftly, making practise more efficient.
Don't forget to string it all back together when you've perfected each individual section and practise from start to finish too.
10. Always have a goal when practising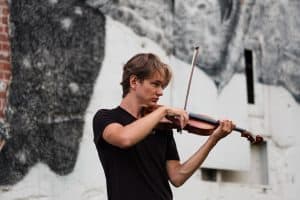 Practising without a goal is not practising at all.
Without a goal, you'll wander around aimlessly and waste your time which can ultimately lead to frustration and disengagement.
Before each practise, make sure you have a goal in mind. Better still, have a practise schedule that spans many practise sessions.
11. Play in public as much as possible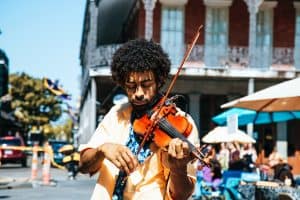 Music is nothing unless it is heard. Playing the violin in public is one of the best ways to gain confidence in your performance.
To start with, play to family and friends. Then as soon as you're able, find a wider audience such as a student concert or an amateur ensemble.
If no other opportunities present themselves, why not jump in the deep end and try your hand at busking!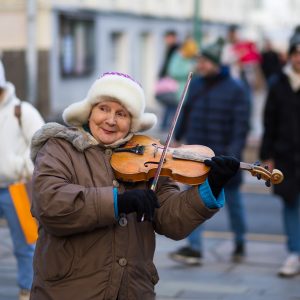 Maybe the most important tip of them all is to simply enjoy playing your violin.
Try to have fun whenever you're practising or performing. This will not only keep you motivated but will also make your learning faster and more memorable.
Final thoughts on violin tips for beginners
With these 12 simple tips under your belt, you're more prepared than most who embark on the journey of becoming a violinist.
And since you've made it this far, your violin future is bright because you're already demonstrating your passion and commitment to learning the instrument. We wish you all the best.
Do you have any other violin tips? For that and any other reason, leave us a comment.
Rosin image via Wikimedia Commons: https://commons.wikimedia.org/wiki/File:Violin_rosin_(2).jpg /
CC BY-SA