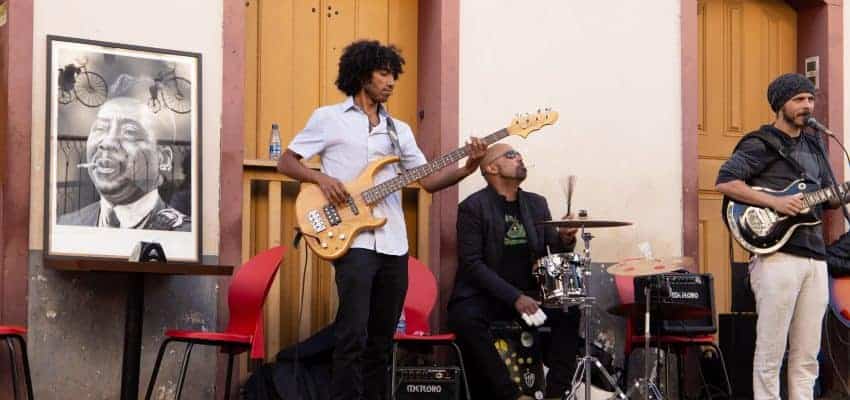 12 common bass guitar mistakes beginners make
Learning how to play the bass guitar, like most instruments, is no easy task. It takes determination, patience, and discipline to learn the basics.
There are, however, certain pitfalls that can be easily avoided. With a little knowhow you can plot a path to to faster, easier learning and avoid a lot of frustration in the process. That's exactly what you'll get from this article.
Here are the 12 most common bass guitar mistakes and how to avoid them.
1. Rushing your practice pieces
Beginners often believe that they need to play songs at full speed from day one. This is unrealistic and counterproductive.
Instead, try playing the song very slowly so you can master all the elements before increasing it to full speed.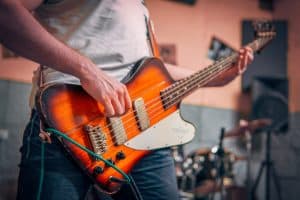 In the same vein as rushing your practice, not having enough patience can ultimately sabotage your learning journey. Learning to play an instrument takes time and the journey itself is often two steps forward and one back.
Without patience, you have the perfect recipe for frustration. To fix this, you need to have an open mindset that allows for mistakes and trying again. Of all the common bass mistakes, this is the one with the most potential impact on your learning as it can lead to giving up.
Another reason why beginners sometimes rush while practicing is that they are not aware of their pacing.
To improve this, you need to learn how to incorporate a metronome into your sessions.
The metronome will train your timing and tempo, and will also help keep your practice within a set time.
You don't need to use it all the time because sometimes it can take your attention away from other focuses, but total neglection is a mistake.
The good news is there's no need to run out and buy a metronome. Instead, use our free online metronome.
Practicing too much is not a good thing. It's not so much a question of duration but more a question of focus. Practicing to a point where you can no longer focus is unproductive and can start to ferment bad technique.
When this happens, walk away and come back after you feel mentally rested. A common phenomenon is that people discover they are better at a certain musical skill the day after a practice session, simply due to having slept on it.
5. Always starting from the beginning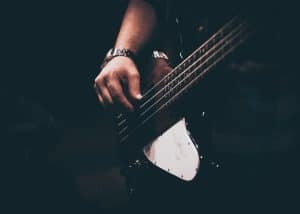 Don't fall into the trap of thinking you need to restart a song every time you make a mistake. This is not the case.
You're better off starting from a point just prior to the mistake and getting back to the same part quickly rather than starting from the beginning and losing practice time by having to play right through to the problematic section each time.
Once all mistakes are ironed out it's OK to play the full song through from start to finish until your bass guitar feels like it's playing itself.
6. Playing only one style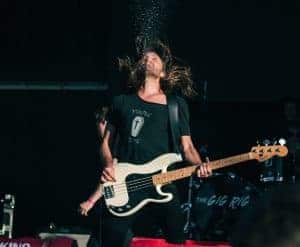 Although it is understandable that you have a preferred style of playing or genre of music, confining yourself to only one while learning does you a big disservice.
Some musical styles contain concepts and skills that make it easier for you to grasp other concepts from a different genre.
Explore various styles and try out different approaches to form your own sound.
7. Not playing with other musicians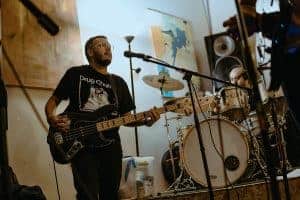 The bass guitar is seldom heard on its own. Yeah, OK, we all know of those smoking bass solos and funk riffs, but essentially the bass is a social animal, it shines when in company with other instruments.
Due to this, playing on your own can only get you so far. At some point you have to take the plunge and start playing with others. Doing this teaches you a wealth of additional skills that are hard to learn when playing alone. 
8. Positioning the bass guitar too low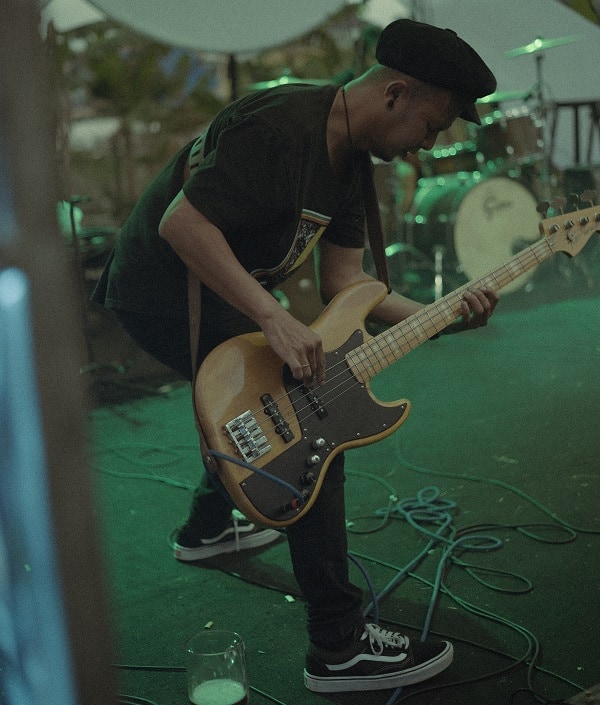 When your strap is too long your bass guitar will be positioned too low and it will affect your playing since it causes bad wrist angles.
To fix this, keep the strap at a level that allows your wrist to be straight while playing. Your bass should be positioned the same as standing up as when sitting down.
And yes, once you've become a bass master you can hold the instrument as to the low to the ground as you like… and look as cool as this guy!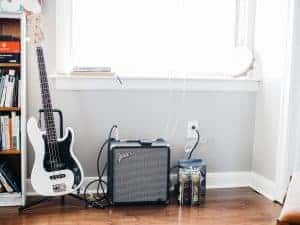 This is something like the equivalent of a piano that's gone out of tune in that it's something only professional bass guitar technicians can fix. It includes altering things such as the height of the bass strings above the neck.
Once your bass is properly set up it will be easier to play than a poorly set up instrument.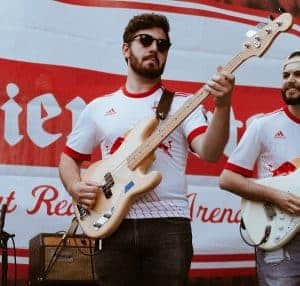 Muting is intentionally silencing a bass string while playing. It gives you a different sound that's important in some styles.
Most beginners don't do muting and it is noticeable. Practice muting and see the big improvement in the quality of sound you produce once you avoid this common bass mistake.
11. Learning only bass tab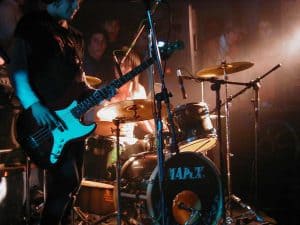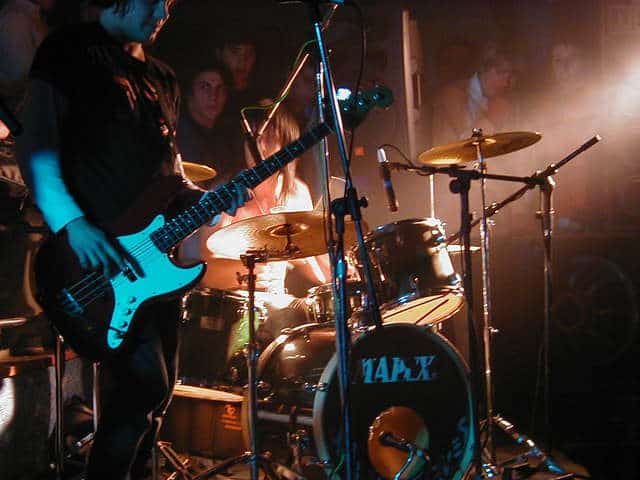 Bass tab is an alternative way to read and write music than traditional scores with clefs and notes etc. Reading bass tab is great as it enables you to learn almost any popular song for free via peer to peer collections of tabs on the web. But it's a mistake to only know how to read tab.
Confining yourself to tab will limit your understanding of music theory, particularly on the timing side, which at intermediate level and above may cause you problems.
12. Not looking back at music history
Many people want to be up to date with music trends, to get the freshest inspiration from current artists (especially if you're young) but if you limit yourself to current music only, you are losing out on a wealth of musical inspiration from the past.
Look back so you understand where the music you love came from, this may also give you an inkling as to where it could go next. 
Final thoughts on common bass mistakes
Learning is not a process of one perfect step followed by another. As much as we want to avoid making mistakes we are bound to stumble over one or two of the most common of them unless we're forewarned.
Fortunately, you are now forewarned and have a much better chance to avoid common mistakes than those who start without doing the research first.
With that said, we wish you all the best in your bass guitar learning journey.