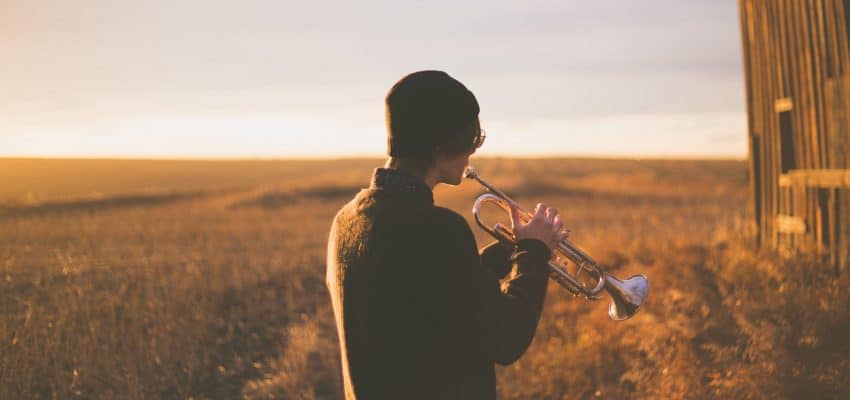 17 trumpet tips for beginners
Getting the right trumpet tips at the start of your learning journey is the smart way to accelerate your progress and avoid creating bad habits.
In this guide, you'll learn our top 17 trumpet tips for beginners which will set you up for success.
Your first trumpet should be in the key of Bb (B flat) since that's a standard trumpet, the key that most beginner trumpet sheet music is written in.
If your trumpet is second hand, check there are no dents on the valve casing and the movement of the valve is smooth (if you're not sure what this means, consider seeking advice from a trumpet player prior to buying).
If you start out with a trumpet that's not the standard key, or one that's damaged, you'll be facing an uphill climb from the outset.
2. Get a mouthpiece that fits correctly
There are different sizes of mouthpiece, so it's important to check with a teacher or a music shop as to whether the mouthpiece that came with your trumpet is the right fit for you.
If it's the right one, it will fit comfortably in your mouth and create a good, clear sound.
3. Learn proper embouchure
In trumpet, embouchure refers to the connection made between the trumpeters lips and the mouthpiece.
Embouchure is the foundation of everything you will do on the trumpet and not something that's best learned from words on a page so instead of describing it we recommend learning from a teacher or watching a few videos on the topic.
4. Learn scales (and practise them)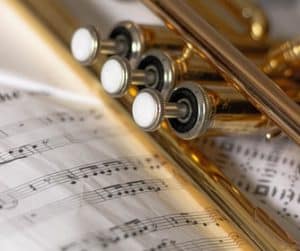 Anyone who's watched the movie The Sound of Music knows the major scale, it's the one that goes Do, Re, Mi, Fa, Sol, La, Ti, Do.
"Do, a deer, a female deer. Re, a drop of golden sun" etc.
In essence, a scale is a series of notes that complement each other and create a certain sound. They also have certain mathematical patterns in terms of pitch changes. There are many scales, the most famous of which are the Major and Minor.
Arpeggios are scales played in specific patterns which repeat.
The benefits of learning scales and arpeggios are huge. They develop your ear, expand your understanding of theory and ultimately lay the foundations of your ability to improvise.
They also help build muscle memory and hand strength.
5. Work on proper breathing technique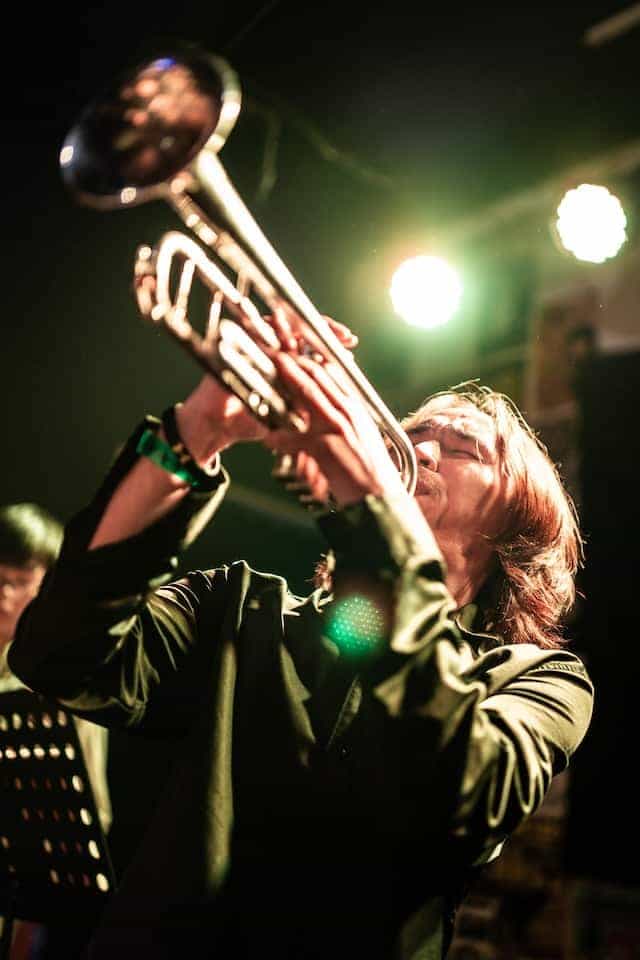 The most advanced breathing technique on the trumpet is called circular breathing where you keep a constant stream of air going into the trumpet even while breathing in by holding air in your mouth and cheeks and then pushing that air out while inhaling.
But that is not the place to start for beginners.
All you need to do to start with is take deep breaths down into your belly rather than up into your chest. This will give you more air and greater control on release.
6. Warm-up before practicing
Just like any other physical activity, your embouchure and your fingers need warming up.
Do mouth exercise before your practise to ensure your mouth muscles are ready for the work ahead and then run through a few scales and arpeggios to get your fingers moving.
7. Pay attention to posture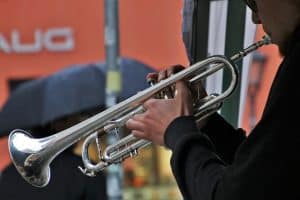 Having a good posture will make your trumpet practise easier and reduce stiffness and strain.
Ensure you stand or sit in an upright position with a straight but comfortable back posture so you'll be able to play with ease for longer periods of time, and return to practise again the next day without stiffness and aches.
Your tone is a product of embouchure, breath control, vibrato and tonguing techniques.
When you first start, much like driving a car, all these components may feel overwhelming. But after a little practise you'll start being able to alter your tone just as easily as a driver steers their car without thinking about how.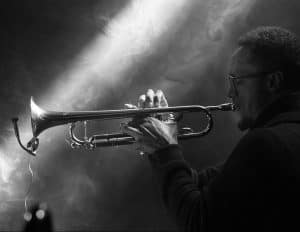 A good way to identify your areas of improvement is to record yourself while playing and listen back afterwards.
Not only will this make you more aware of what you need to improve, it's also a great way to look back and see how far you have progressed.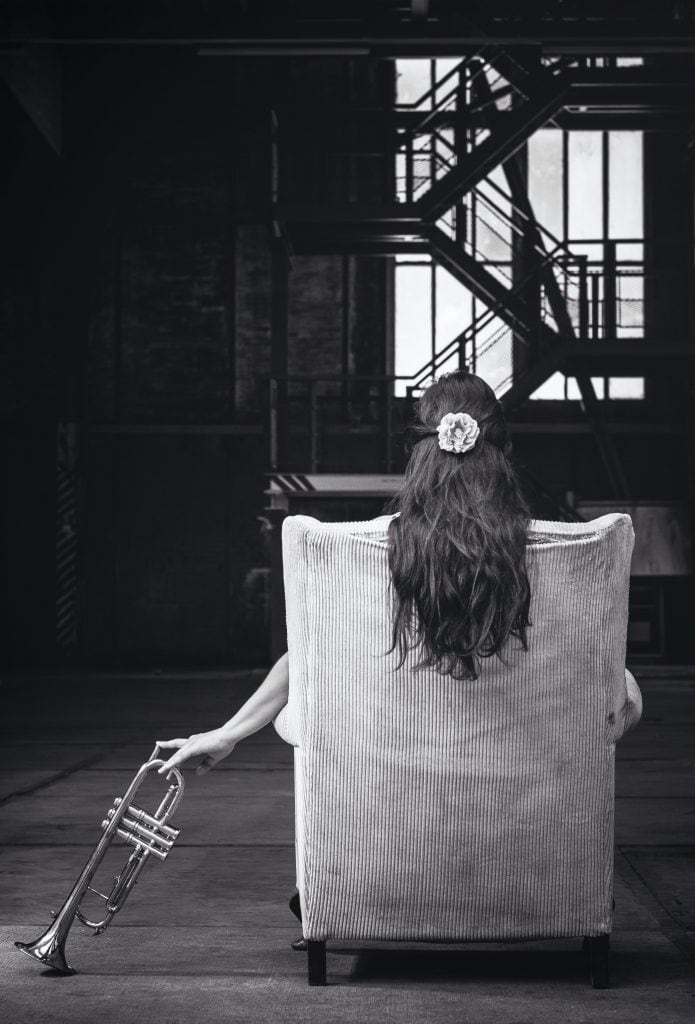 It's easy to be tempted to play a piece of music as fast as you can, however, this can be counterproductive. Rushing into a piece might cause you to learn it improperly and then have to unlearn the baked-in mistakes.
Instead of focusing on speed, learn to take things slowly and focus on accuracy instead.
Once you have accuracy, you can safely increase the speed up to, and even beyond, the true tempo of the piece.
11. Practise little and often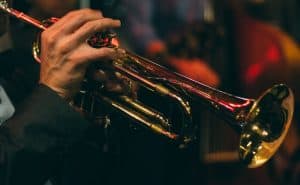 Instead of practising for long hours once or twice a week, research shows it's more beneficial to practise for shorter durations daily.
30 minutes to an hour per day will produce rapid improvement in your skill.
And on those days that get away from you, even a 15 minute practise session is a better option than not practising at all. 
There are many examples of great musicians who can't read music. But there are many more examples of those who can.
The benefits of reading music are many, so it's worth spending time to learn this skill.
If you find it's frustrating to begin with because your ability to read music feels like it's holding back your ability to actually play the trumpet, spend a little extra time on those scales and arpeggios which are easily memorised and lead to the great joy of improvisation.
But then… return to learning to read that sheet music.
13. Practise without sheet music
Once you have memorised a piece, perform it without the sheet music. This will take your understanding of the piece to the next level and also enable you to be more present with your audience.
And, as already mentioned, don't shy away from improvisation. It's easier than you might think to get started.
14. Break pieces of music down
When learning a new piece of music, an effective way to approach it is to break it down into small, manageable chunks.
This means you can correct mistakes rapidly and perfect difficult sections without having to play the piece all the way to that section again every time you need to restart.
One of the most important skills a beginner trumpeter can develop is playing in time and sticking to a particular tempo.
Once you're able to do this you can play with other musicians or along with recordings.
16. Listen as you practise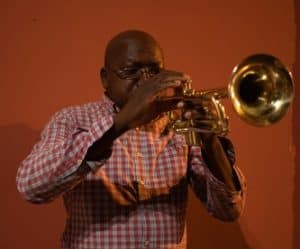 Whenever you practise, make it a point to be your own audience at the same time, this will help you notice mistakes and other ways to improve.
Correcting mistakes on the spot is far preferable to eliminating them after they've become baked into muscle memory.
Plus… if you're not listening you won't get the thrill of those moments where you sound great.
17. Expand your musical influence
A broad range of music is played on the trumpet. From jazz to orchestral and everything in between.
Broadening your influences is a great way to stay inspired and also to challenge yourself.
So don't limit your musical menu, even if there's one style of trumpet you love, you'll find techniques in other genres which complement the performance of your main one.
Final thoughts on trumpet tips for beginners
Starting out on the trumpet is harder if you don't have everything stacked in your favour. But now you have these 17 trumpet tips for beginners under your belt, you're all set for a smooth take off.
All that's left to say is that we wish you all the best in your trumpet learning journey.