20 common piano mistakes and how to avoid them
Learning to play the piano is a decent challenge but the mountain is not quite so steep when you know the common piano mistakes for beginners and how to avoid them.
Here's 20 of the most frequent.
1. Playing with tense fingers
Beginners often play with their fingers flat and outstretched. This may be due to nervousness or not having been taught the proper technique.
Playing with tense fingers slows you down and makes you less agile across the keyboard. 
Practise playing with your fingers curved and relaxed.
When just starting out, it's common for pianists to practise their pieces too fast.
However, as part of the discipline of playing the piano, one must learn a piece slowly and gradually at first so that muscle memory is locked in correctly. Learning something at too high a tempo is more likely to lead to persistent errors in technique.
Once a piece has been learned at a slow tempo, the speed can be safely increased, which brings other benefits such as finger accuracy and dexterity.
3. Sitting too close or far away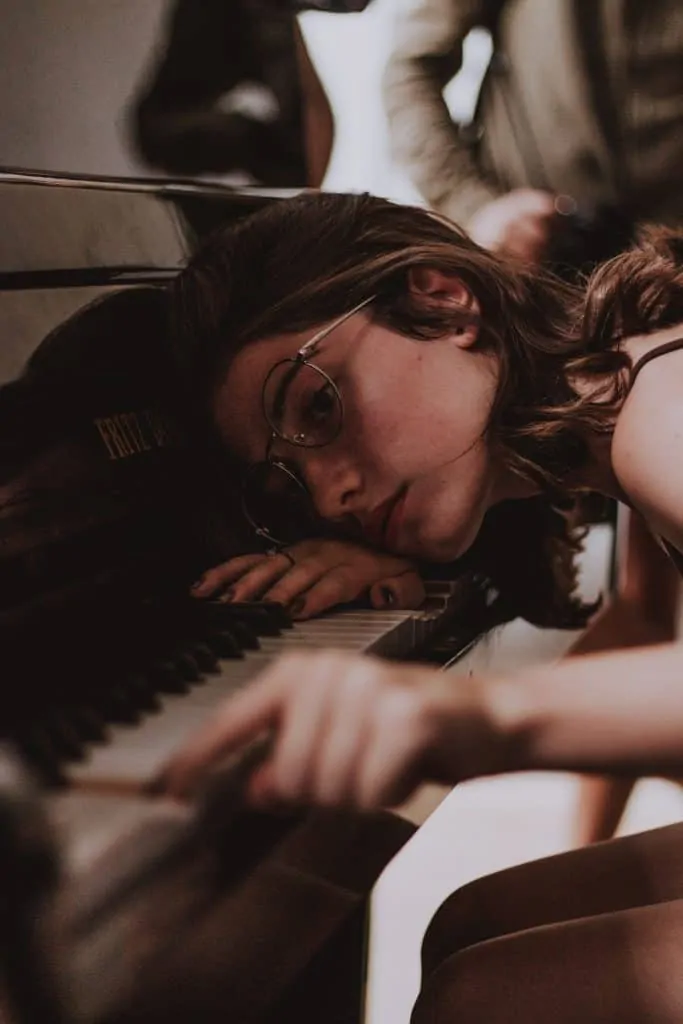 Positioning yourself too close or far away from the piano can lead to body aches and poor playing.
Sitting too far away causes you to stretch your arms and puts strain on your back, while being too close leaves you with little room to move your arms.
To fix this, sit on the edge of your chair and make sure your elbows are slightly in front of your body when your fingers are on the keys.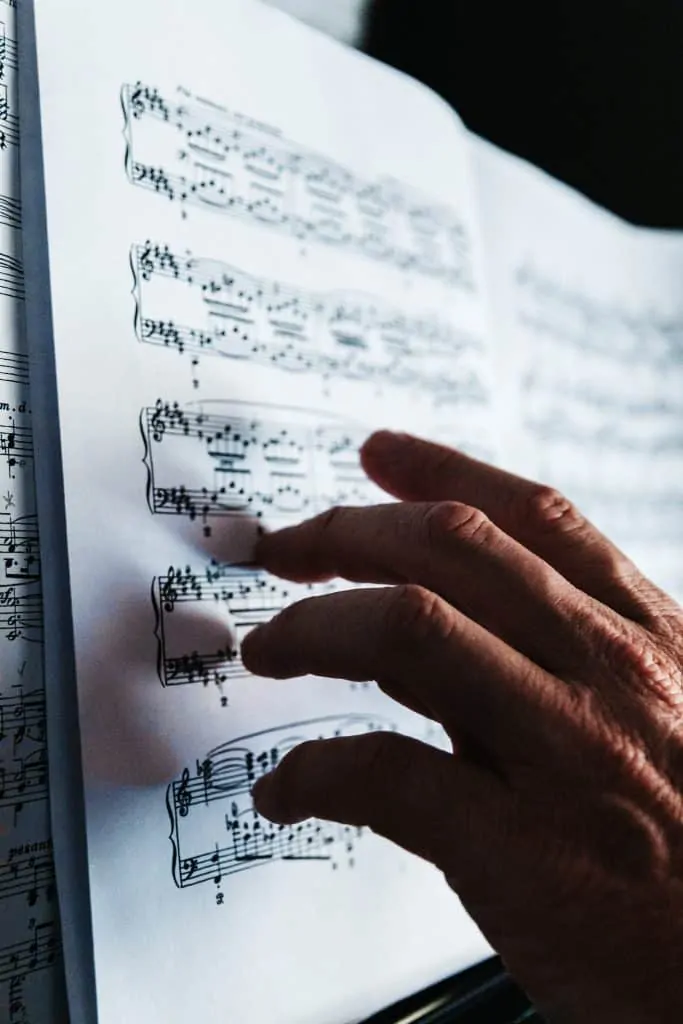 Sometimes beginners ignore the details of a piece of music. It is not enough to press the correct keys, you must also press them in the correct way, with the right weight and dynamics.
When playing, notice crescendos, diminuendos, fortissimos, and staccatos. Stick to the tempo and don't neglect repeated sections of the score.
In short, the details are there for a reason, passing them by as if they are unimportant will only mean you'll have to come back later to correct your performance of the piece.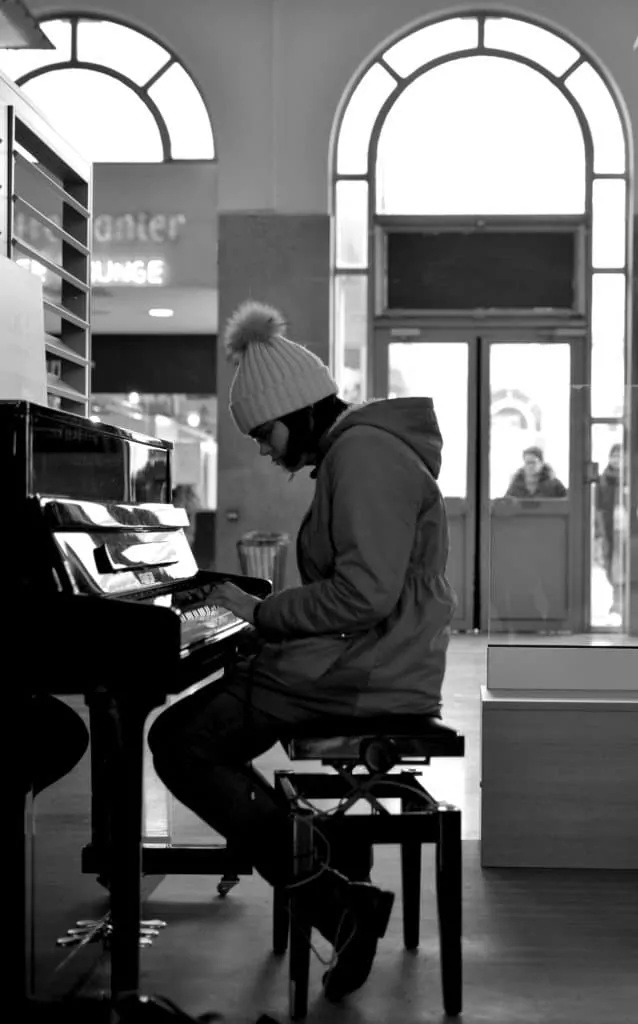 When playing, ensure your back is straight, do not slouch.
Extend your arms perpendicular to your body and make sure your wrists are level to your arms.
Don't make the mistake of playing with your wrist collapsed below your arms or below the keys. Both of these will affect your performance and can cause wrist pain in the long run.
Learning to play the piano is not an instant feat. It takes time, a lot of patience and a good learning mindset.
Expecting yourself to reach your goals quickly is not only counterproductive it also takes away the fun of learning.
A good way to approach it is to welcome mistakes and minor setbacks as healthy steps on your learning journey. Remember your goals and occasionally review how far you've come, you might be pleasantly surprised!
7. Using too much finger pressure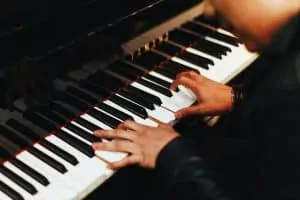 Failing to use your arm weight is one of the most common piano mistakes.
The power behind your key press should come from the weight of your arms, not your fingers.
If you fail to use the heaviness of your arms, you will end up with tired fingers and lack stamina to play longer pieces.
8. Not practising consistently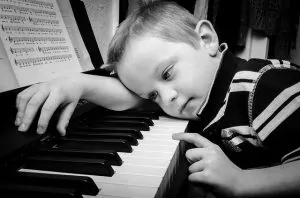 Practise is vital to improving performance. 
Frequent, accurate repetition turns into muscle memory and skill.
Aim for daily practice. If you're short on time, even 15 minutes a day makes a big difference.
9. Staying at the same difficulty level
Once you've mastered a piece, it's time to move on to something more difficult.
Playing the same piece over and over again can cause your ability to plateau because you're not challenging yourself to attain higher level skills and understanding.
10. Learning pieces that are too hard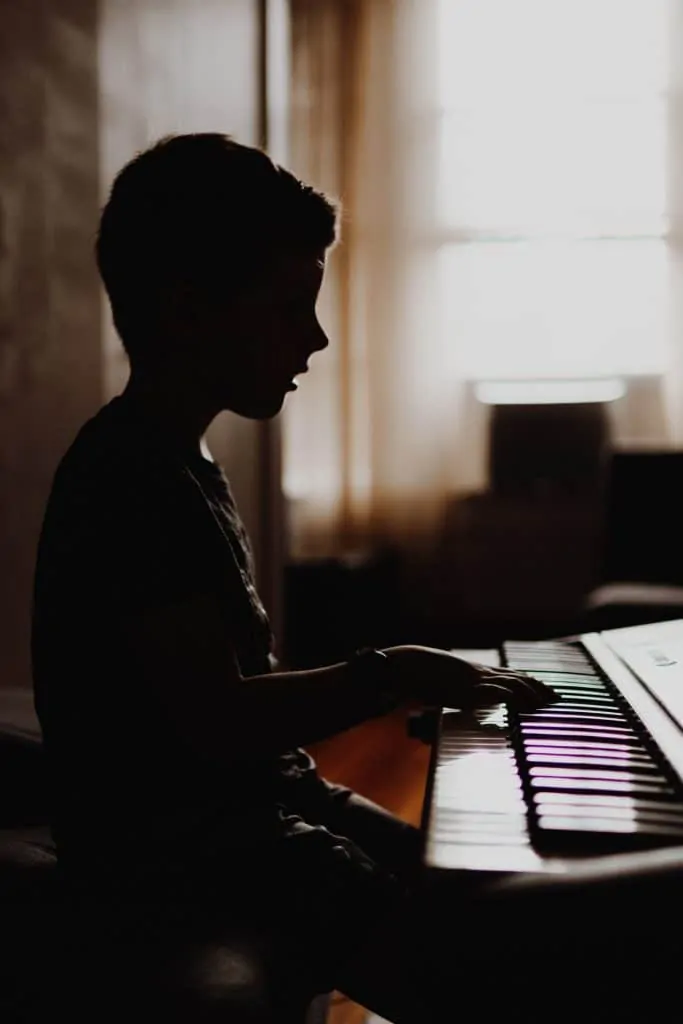 This is the flip side to the previous tip. Trying to learn a piece that's too hard is likely to frustrate you and prevent you from progressing. It can also lead to bad technique that takes a lot of ironing out.
Aim for a piece that is within your range of difficulty, an attainable stretch.
11. Looking at the keys (always)
Training yourself not to look at the piano keys can be difficult but it's a necessary skill.
The trick is to first practise while looking at the keys then slowly and consciously begin playing while looking up at the music, to one side or even with closed eyes.
12. Neglecting to use a metronome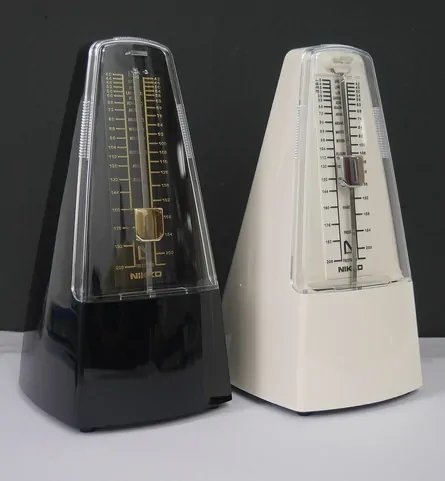 Practising with a metronome will help you hone your timing and rhythm, and prepare to play with other musicians.
The good news is you don't even need to buy one, you can use our free online metronome instead.
Sometimes less is more.
Practising for hours in a single sitting is not the best approach to learning piano as sitting in the same position for a long time will put significant strain on your body, leaving you unable to practise in the following days.
Additionally, when you're tired your ability to focus decreases making your time less effective. So keep the duration of your practise sessions at a length where your focus and energy remain sharp until the last few minutes. Learn to spot when it's time to let go and come back another day.
14. Always starting from the beginning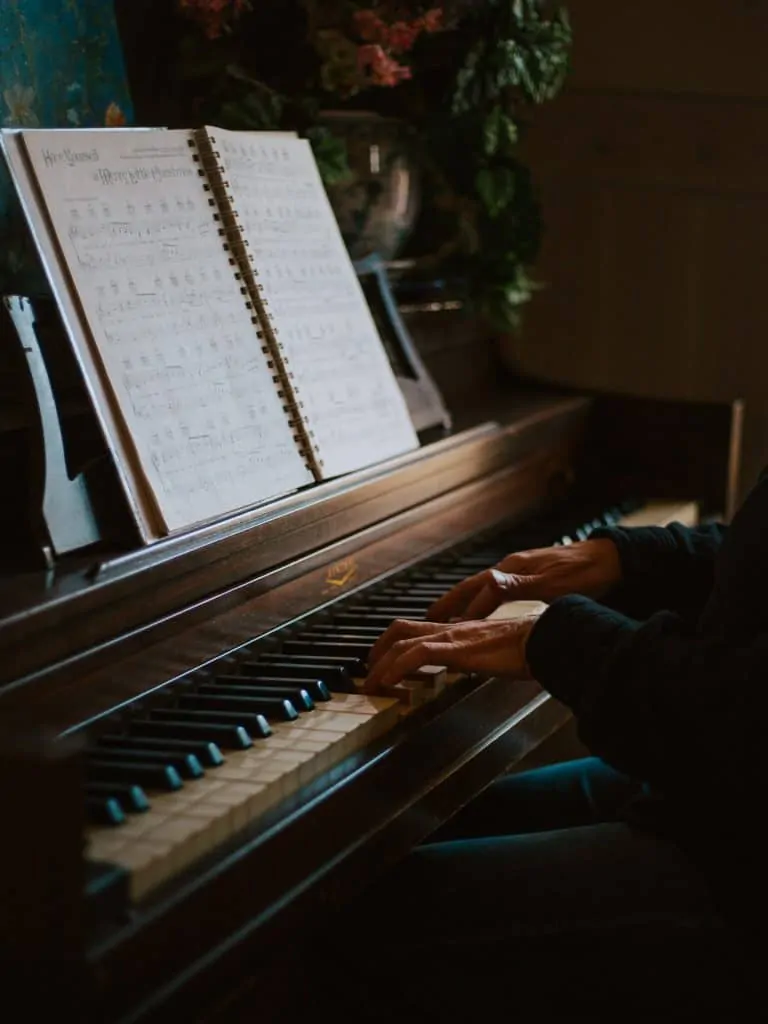 At first it can seem logical to start a piece again from the top every time you make a mistake.
After all, if you want to master a piece of music, you need to be able to play it error free from start to finish.
However, if you constantly start from the beginning you will slow down your progress compared to if you practised the piece in sections.
The reason for this is simply that it takes longer to get back to the troublesome part of the piece if you're always starting from the beginning each time, meaning you have fewer chances to correct the error each practise session.
15. Not recording yourself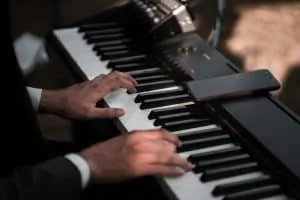 Given today's technology, recording yourself practising has never been easier.
Listening back to your sessions is a great way to figure out what needs to be improved because it gives you an outside perspective on your level of performance (the good and the bad!)
16. Using the damper pedal too much
The damper pedal sustains notes you've played while the pedal is held down. It makes for a beautiful, resonant and large sound but it can also hide errors.
Try playing your piece without using the damper pedal even if it's part of the score, you might well find that you can identify and correct small errors in technique that you might otherwise have missed.
17. Only playing in C Major
Songs are easier to play in C major since there are no sharps and flats (black notes) in the key.
The issue is that limiting yourself to songs in any one key will drastically shrink the catalogue of pieces available to you.
Learn to master all the keys so that each of the many wonderful pieces of piano music are accessible for you. This will also help with songwriting and improvisation.
18. Not performing in front of others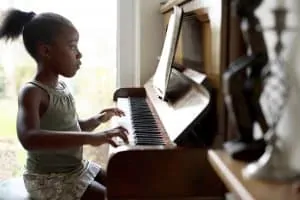 If you're like most beginners, especially adults, you might prefer to play out of earshot of others. This shyness is natural but it's a barrier that must be broken through at some point.
If you only play when you're alone you will be less motivated perfect a piece compared to when you know a performance to others is coming. Because of this, preparing for a performance is a powerful way to fast track your learning.
So don't be shy, use the motivation of an upcoming performance to propel yourself to faster results.
19. Not harnessing body language in your performance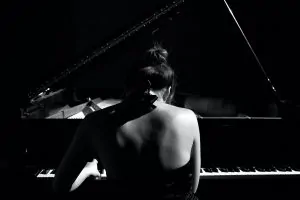 Although playing the piano is predominantly an audio art form it does involve being physically visible to people (assuming you've avoided common mistake 18).
With this in mind, the way you move is a part of your performance. By using a mirror while playing or videoing yourself and watching back, you can review your body language and facial expressions and bring more physical performance to the piece.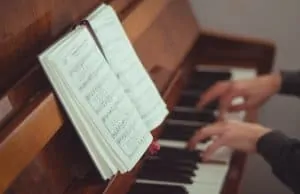 Scales may seem boring but they are the foundation of all aspects of piano.
Finger agility, warm-ups, theoretical understanding and improvisation all improve with the mastering of scales.
It's always a magical moment when a beginner starts to improvise with a blues scale for the first time and realises how easy it is to make up fabulously sounding music on the spot with just a little scale knowledge.
Final thoughts on common piano mistakes
Now you've read this article there's only one thing left to do… go and make as many mistakes as you can.
If you're doing that and learning from your mistakes then you're also progressing at a rate of knots.
The truth is, though this article will help you avoid making mistakes, they really shouldn't be avoided as a rule, they should be celebrated.
The path to perfection is paved with mistakes.
Have we missed any common piano mistakes? Do you have anything else you'd like to share with us? Please leave a comment below.