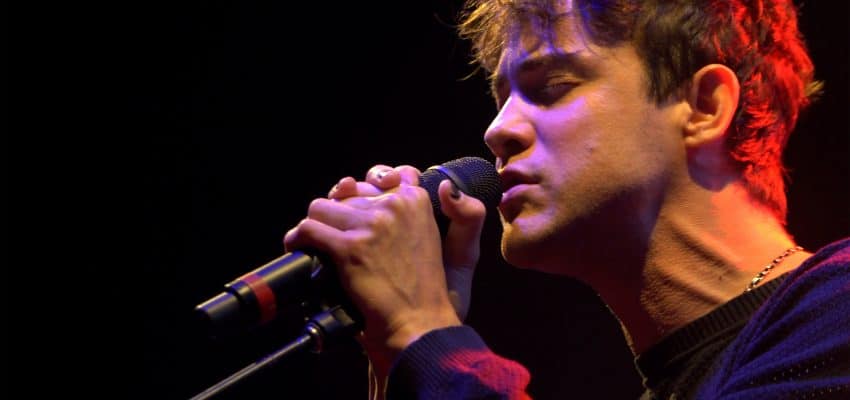 9 common singing mistakes and how to avoid them
Not all singing mistakes are flat notes and poor outfit choices (you wore what to karaoke?) Some are common and easily avoided when you know what to watch out for. This page is devoted to exactly these types of vocal pitfall.
1. Not drinking enough water
Staying hydrated is important for singers as water is used by the body to maintain the mucus that lubricates and protects the voice. If not enough water is available, your vocal cords will become irritated when you sing and damage can occur.
It's also worth noting that alcoholic beverages don't help as they can increase overall body dehydration.
2. Eating the wrong things
Acid reflux irritates your throat and vocal chords, and can lead to hoarseness or even longer lasting damage. Due to this, it's important for singers to understand what types of foods and activities cause this condition so it can be managed ahead of practise or performance.
Two examples of things that commonly cause acid reflux are eating spicy food, and lying down soon after a meal.
Your vocal cords are extended and contracted by muscles in your throat. Just like any other muscle, they benefit from being warmed up.
Not only does warming up help to protect you from injury, it removes unnecessary mucus,  preparing your voice to produce a controlled, consistent singing tone.
A good warm up should last 20-30 minutes. Beyond the 30 minute mark you start using up the peak performance condition of your voice and energy.
After warming up there's a period where you achieve the height of control, commanding accuracy with ease. This is when you should be practising or performing, not continuing to do warm-ups.
Your voice will begin to tire after a certain amount of singing and that's why avoiding warming up for too long is vital to being at your best for an entire performance.
A bad posture can limit your capacity to breathe and constrict the flow of air to your vocal cords. This causes an inability to sustain notes, deliver power and hold a consistency of tone.
When you start, don't try to mimic dramatic poses of professional singers, that can wait. Instead give yourself every chance to develop good technique by standing or sitting upright, enabling a full and easy breath.
Increasing the volume of your singing voice in the same way you do when you shout is not the way to achieve a powerful singing sound.
Doing so will put a lot of stress on your voice, in fact it's probably the most common way singers cause long-term vocal damage.
Learning to produce volume and power comes with good singing technique, it's something you arrive at with proper practise.
Related-tip: before a practise or performance, don't shout normally either. This can irritate your vocal cords and impair your singing voice.
7. Not practising regularly
Improving as a singer involves the physical conditioning of muscles, gaining control over their micro-movements and ingraining good technique into muscle memory. Because of this, irregular practise means you never really get off the 'runway' of vocal ability.
Practise for 20-30 minutes per day after a warm-up. For the best results, make it a structured practise (singing in the shower isn't going to cut it), following a programme that builds your technique over time.
You'll be amazed how far you'll come in a few weeks of structured daily vocal practise.
Although it might seem noble and admirable to push yourself to practise when you have a cold, it's inadvisable. You can actually do more harm than good during these times.
Just take the opportunity to rest and try to recover as quickly as possible, then resume your practise.
9. Imitating one vocal sound
The goal of your practise should be to find your own style and voice. Imitating a single idol and not experimenting with other sounds can set you up for frustration and limit you. The reason for this is that each voice and body are different, and what suits your idol might not suit you.
Once you've got the basics, try to imitate the sounds of singers from multiple genres using different tones, vowel productions and lyrical techniques. This way, you can adopt the elements that feel natural to you rather than copying one sound only.
Final thoughts on common singing mistakes
Singing is an aspiration for many. It's fun, liberating and highly inspirational. It's a shame then, when beginners lose confidence and give up because they've fallen at the first hurdles. If you've read this far though, you won't be amongst those early stumblers. You're now well prepared to power through unscathed and we wish you all the best in your singing journey.
Did we miss a common singing mistake? For that and anything else, please leave us a comment below.