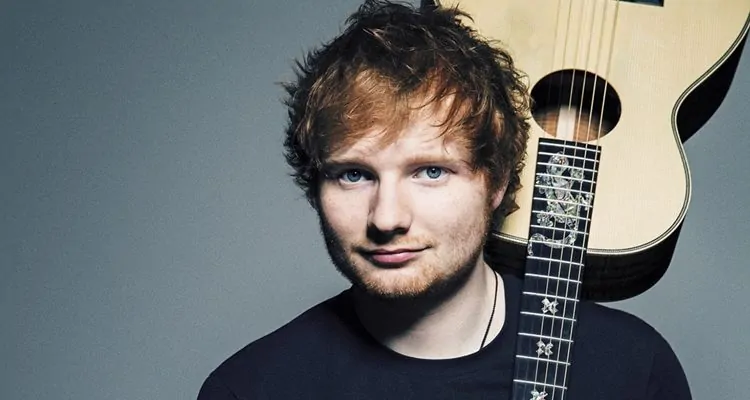 Pop songs for tenors
This page contains 1,519 pop songs by 63 artists who sing in the tenor vocal range. Read our guide on how to find your vocal range and voice type to find out if you're a tenor or not.
In putting together song lists for the six major voice types, we kept the pop category wide, categorising over 5,500 songs from more than 300 artists. This page contains the ones that fell into the tenor range but whatever your voice type there are plenty to choose from.
So, whether you need songs to inspire your singing practise, to add to your performance set or to line up for your next karaoke night, you're in the right place.
Want a quick list of songs for tenors rather than browsing by artist? Here's our top 30: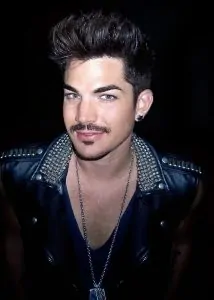 A Change Is Gonna Come
A Loaded Smile
Another Lonely Night
Believe
Better Than I Know Myself
Broken
Broken Open
Can't Let You Go
Chokehold
Closer To You
Comin In Hot
Cryin'
Cuckoo
Evil in the Night
Feel Something
Fever
For Your Entertainment
Ghost Town
Girl Crush
If I Had You
Kickin' In
Lay Me Down
Love Dont
Mad World
Marry the Night
Music Again
Naked Love
Never Close Our Eyes
New Eyes
Overglow
Pick U Up
Pop That Lock
Roses
Rumors
Runnin'
Sleepwalker
Soaked
Stranger You Are
Strut
Superpower
Sure Fire Winners
There I Said It
Time for Miracles
Trespassing
Two Fux
Underneath
Welcome to the Show
Whataya Want from Me
Amazing
Angel
Back in the Saddle
Big Ten Inch Record
Chip Away The Stone
Come Together
Crazy
Cryin'
Dream On
Dude
Eat The Rich
Fly Away From Here
Hole in My Soul
I Don't Want to Miss a Thing
Jaded
Last Child
Livin' On The Edge
Lord Of The Thighs
Mama Kin
No More No More
Pink
Rag Doll
Rats in the Cellar
Same Old Song And Dance
Seasons of Wither
Sweet Emotion
Train Kept A Rollin'
Uncle Salty
Walk This Way
Water Song/Janie's Got A Gun
What It Takes
You See Me Crying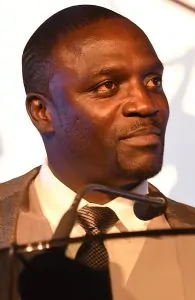 Beautiful
Don't Matter
Ghetto
I Can't Wait
I Wanna Love You
I'm So Paid
Locked Up
Lonely
Pot of Gold
Right Now (Na Na Na)
Smack That
Sorry, Blame It on Me
We Don't Care
Belle
Call Me
Change Is Gonna Come
Everything's Gonna Be Alright
For the Good Times
Full of Fire
Funny How Time Slips Away
God Blessed Our Love
Have You Been Making Out OK?
Here I Am
How Can You Mend a Broken Heart? – Notting Hill
I Can't Get Next to You
I'm Glad You're Mine
I'm a Ram
I'm Still in Love With You
I've Never Found a Girl
Jesus Is Waiting
Jesus Will Fix It
Keep on Pushing Love
Let's Get Married
Let's Stay Together
Livin' for You
Look What You Done for Me
Love And Happiness
Put a Little Love in Your Heart
Sha-La-La
Simply Beautiful
Take Me To The River
Tired of Being Alone
What a Wonderful Thing Love Is
You Are My Everything
You Ought to Be With Me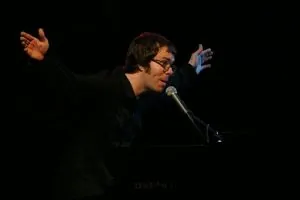 Air
Alice Childress
Army
Bad Idea
Battle of Who Could Care Less
Boxing
Brick
Cigarette
Don't Change Your Plans
Eddie Walker
Erase Me
Evaporated
Fair
Hospital Song
Jackson Cannery
Julianne
Kate
Landed
Magic
Missing the War
Narcolepsy
One Angry Dwarf and 200 Solemn Faces
Philosophy
She Don't Use Jelly
Song for the Dumped
Sports & Wine
Theme From "Dr. Pyser"
Tom & Mary
Uncle Walter
Underground
Video Killed the Radio Star
Where's Summer B.?
Your Most Valuable Possession
Your Redneck Past
A Matter of Trust
All About Soul (remix)
Allentown
An Innocent Man
And So It Goes
Baby Grand
Big Shot
Captain Jack
Don't Ask Me Why
Goodnight Saigon
Hey Girl
I Go to Extremes
It's Still Rock and Roll to Me
It's Still Rock 'n' Roll to Me
Just the Way You Are
Keeping the Faith
Leningrad
Light as the Breeze
Lullabye (Goodnight, My Angel)
Movin' Out (Anthony's Song)
My Life
New York State of Mind
Only the Good Die Young
Piano Man
Pressure
Say Goodbye to Hollywood
Scenes From an Italian Restaurant
Shameless
She's Always a Woman
She's Got a Way
Sometimes a Fantasy
Tell Her About It
The Downeaster 'Alexa'
The Entertainer
The Longest Time
The Night Is Still Young
The River of Dreams
The Stranger
This Is The Time
To Make You Feel My Love
Uptown Girl
We Didn't Start the Fire
You May Be Right
You're My Home
You're Only Human (Second Wind)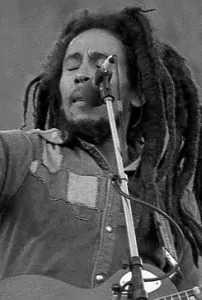 Bend Down Low
Buffalo Soldier
Burnin' And Lootin'
Caution
Coming In From The Cold
Concrete Jungle Dub
Could You Be Loved
Crazy Baldhead
Do It Twice
Duppy Conqueror
Easy Skanking
Get Up Stand Up
I Shot The Sheriff
Iron Lion Zion
Is This Love?
Jamming
Kinky Reggae
Live
Lively Up Yourself
Mellow Mood
Midnight Ravers
Nice Time
Night Shift
No More Trouble
No Woman, No Cry
One Love
Punky Reggae Party
Put It On
Rainbow Country
Rebel Music (3 O'Clock Road Block)
Redemption Song
Revolution
Roots, Rock, Reggae
Satisfy My Soul
Simmer Down
Slave Driver
Smile Jamaica
So Much Things to Say
So Much Trouble in the World
Soul Shakedown Party
Stir It Up
Sun is Shining
Them Belly Full (But We Hungry)
Three Little Birds
Time Will Tell
Trench Town
Trenchtown Rock
Turn Your Lights Down Low
Waiting in Vain
Want More
War
Work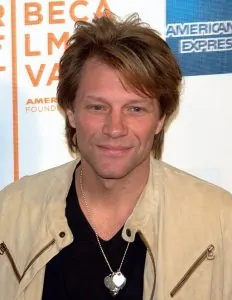 All About Lovin' You
Always
Bad Medicine
Bed of Roses
Blaze Of Glory
Blood on Blood
Born To Be My Baby
Como yo nadie te ha amado
Dry County
Everyday
Hallelujah
Have A Nice Day
I'll Be There For You
I'll Sleep When I'm Dead
In These Arms
It's My Life
Lay Your Hands On Me
Livin' On A Prayer
Living in Sin
Make a Memory
Miracle
Misunderstood
Never Say Goodbye
No Apologies
Runaway
Shot Through The Heart
Someday I'll Be Saturday Night
Thank You for Loving Me
This Ain't a Love Song
Wanted Dead Or Alive
We Weren't Born To Follow
Who Says You Can't Go Home
You Give Love A Bad Name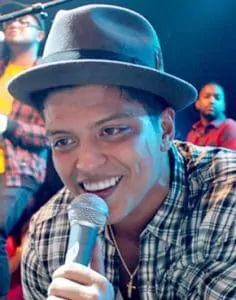 24K Magic
Billionaire
BLOW
Calling All My Lovelies
Chunky
Count On Me
Don't Give Up
Finesse
Gorilla
Grenade
If I Knew
It Will Rain
Just The Way You Are
Liquor Store Blues
Locked Out Of Heaven
Marry You
Moonshine
Natalie
Our First Time
Perm
Please Me
Runaway Baby
Straight up & Down
Talking to the Moon
That's What I Like
The Lazy Song
Too Good to Say Goodbye
Treasure
Uptown Funk
Versace On The Floor
Wake Up in the Sky
When I Was Your Man
Young Girls
(Everything I Do) I Do It For You
'O sole mio
All for Love 
Back to You
Bang The Drum
Brothers Under the Sun
Can't Stop This Thing We Started
Cloud Number 9
Cuts Like A Knife
Do I Have To Say The Words?
Get Off My Back
Have You Ever Really Loved A Woman?
Heat Of The Night
Heaven
Here I Am
I'll Always Be Right There
I'm Ready
Kids Wanna Rock
Let's Make a Night to Remember
Let's Make A Night To Remember
One Night Love Affair
Please Forgive Me
Run To You
Somebody
Sound The Bugle
Straight From The Heart
Summer Of '69
The Only Thing That Looks Good on Me Is You
There Will Never Be Another Tonight
This Is Where I Belong
This Time
Thought I'd Died and Gone to Heaven
Thought I'd Died And Gone. . .
When You Love Someone
When You're Gone
You Can't Take Me
Attention
Done for Me
How Long
Marvin Gaye
One Call Away
See You Again
The Way I Am
We Don't Talk Anymore
Beautiful People
Don't Judge Me
Don't Wake Me Up
Forever
Kiss Kiss
Look At Me Now
She Ain't You
Superhuman
Sweet Love
Take You Down
Turn Up the Music
Wall To Wall
Wet the Bed
With You
Yeah 3x
Next to You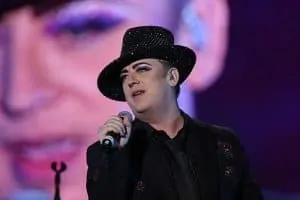 Do You Really Want to Hurt Me
I'm Afraid of Me
It's a Miracle
Karma Chameleon
Miss Me Blind
Time (Clock of the Heart)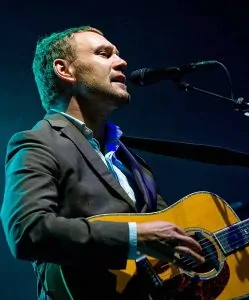 Alibi
Babylon
Be Mine
Dead in the Water
Flame Turns Blue
Hospital Food
Please Forgive Me
Sail Away
Say Hello Wave Goodbye
Shine
Slow Motion
The One I Love
The Other Side
This Year's Love
Transformation
World To Me
You're the World to Me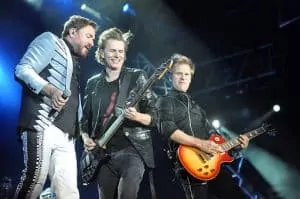 A Matter of Feeling
A View to a Kill
All She Wants Is
Anyone Out There
Careless Memories
Come Undone
Do You Believe in Shame?
Electric Barbarella
Friends of Mine
Girl Panic!
Girls On Film
Hungry Like the Wolf
I Don't Want Your Love
Is There Something I Should Know
Last Night in the City
My Own Way
New Moon on Monday
New Religion
Night Boat
Notorious
Ordinary World
Planet Earth
Pressure Off
Save a Prayer
Serious
Skin Trade
Sunrise
The Chauffeur
The Reflex
The Wild Boys
Union of the Snake
What Happens Tomorrow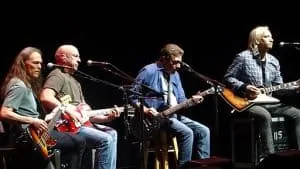 After the Thrill Is Gone
All She Wants to Do Is Dance
Business as Usual
Busy Being Fabulous
Center of the Universe
Desperado 
Dirty Laundry
Do Something
Fast Company
Frail Grasp on the Big Picture
Funky New Year
Good Day In Hell
Hole in the World
Hollywood Waltz
Hotel California
I Can't Tell You Why
James Dean
Learn To Be Still
Life in the Fast Lane
Lyin' Eyes
New Kid in Town
No More Walks in the Wood
Out of Control
Saturday Night
Take It Easy
Take It to the Limit
Teenage Jail
Tequila Sunrise
The Best of My Love
The Disco Strangler
The End of the Innocence
The Greeks Don't Want No Freaks
The Last Resort
The Last Worthless Evening
The Sad Cafe
Those Shoes
Victim of Love
Visions
Waiting in the Weeds
Wasted Time
What Do I Do With My Heart
Witchy Woman
You Never Cry Like a Lover
Afire Love
All of the Stars
Autumn Leaves 
Barcelona
Beautiful People
Bibia Be Ye Ye
Bloodstream
BLOW
Castle on the Hill
Cold Coffee
Cross Me
Dive
Don't
Drunk
Eraser
Everything Has Changed
Galway Girl
Give Me Love
Grade 8
Happier
Hearts Don't Break Around Here
How Would You Feel
I Don't Care
I See Fire
Kiss Me
Lego House
Nancy Mulligan
New Man
One
Perfect
Photograph
Save Myself
Shape of You
Sing
Small Bump
So
South of the Border
Supermarket Flowers
Take It Back
Take Me Back to London
Tenerife Sea
The A Team
The Man
Thinking Out Loud
This
Wake Me Up
What Do I Know?
You
You Need Me, I Don't Need You
(I'm Gonna) Love Me Again
All The Girls Love Alice
Are You Ready for Love
Believe 
Bennie And The Jets
Burn Down the Mission
Can You Feel the Love Tonight
Candle In The Wind
Circle of Life
Crocodile Rock
Daniel
Don't Go Breaking My Heart
Don't Let the Sun Go Down on Me
Funeral For A Friend / Love Lies Bleeding
Goodbye Yellow Brick Road
Grey Seal
Honky Cat
I Don't Wanna Go On With You Like That
I Guess That's Why They Call It the Blues
I Want Love
If It Wasn't for Bad
I'm Still Standing
Island Girl
Kiss the Bride
Levon
Lucy In The Sky With Diamonds
Mama Can't Buy You Love
Mona Lisas and Mad Hatters
Nikita
Philadelphia Freedom
Rocket Man
Rotten Peaches
Sacrifice
Sad Songs (Say So Much)
Saturday Night's Alright
Skyline Pigeon
Someone Saved My Life Tonight
Something About the Way You Look Tonight
Song for Guy
Sorry Seems to Be the Hardest Word
Step Into Christmas
Susie (Dramas)
Take Me To The Pilot
The Bitch Is Back
The One
The Retreat
This Train Don't Stop There Anymore
Ticking
Tiny Dancer
We All Fall in Love Sometimes
Your Song
All Those Years Ago
Awaiting on You All
Bangla Desh
Behind That Locked Door
Between The Devil And The Deep Blue Sea
Blood From a Clone
Blow Away
Breath Away From Heaven
Cheer Down
Cockamamie Business
Dark Sweet Lady
Devil's Radio
Ding Dong
Fish on the Sand
Give Me Love (Give Me Peace on Earth)
Got My Mind Set on You
Here Comes the Moon
Isn't It a Pity
Lay His Head
Learning How to Love You
Marwa Blues
My Sweet Lord
Poor Little Girl
Rocking Chair in Hawaii
That's the Way It Goes
That's What It Takes
This Song
Unknown Delight
Wah-Wah
What Is Life
When We Was Fab
Woman Don't You Cry for Me
Your Love Is Forever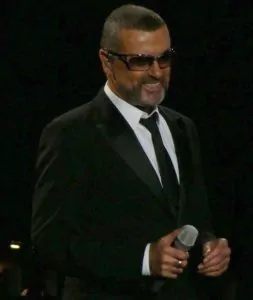 A Different Corner
A Moment With You
Amazing
An Easier Affair
As
Cowboys and Angels
Don't Let the Sun Go Down on Me
Faith
Fantasy
Fastlove
Father Figure
Free
Freedom! '90
Freeek!
I Can't Make You Love Me
I Knew You Were Waiting
I Want Your Sex
Jesus to a Child
John and Elvis Are Dead
Kissing a Fool
Let Her Down Easy
Look at Your Hands
Monkey
One More Try
Outside
Praying for Time
Roxanne
Something to Save
Spinning the Wheel
Star People
The Strangest Thing
This Is How (We Want You to Get High)
Too Funky
Waiting for That Day
White Light
You Have Been Loved
A Junkie's Lament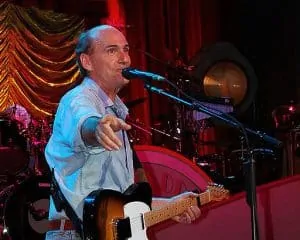 A Junkie's Lament 
Angels Of Fenway
Carolina in My Mind
Copperline
Country Road
Don't Let Me Be Lonely Tonight
Enough To Be On Your Way
Everyday
Fire And Rain
Her Town Too
How Sweet It Is
I Feel the Earth Move
If I Keep My Heart Out of Sight
Long Ago and Far Away
Love Songs
Mean Old Man
Mexico
Millworker
Only a Dream in Rio
Our Town
Rainy Day Man
Secret 'O Life
Shed a Little Light
Shower The People
Something in the Way She Moves
Summer's Here
Sunshine Sunshine
The Frozen Man
Walking Man
You Can Close Your Eyes
You've Got A Friend
Your Smiling Face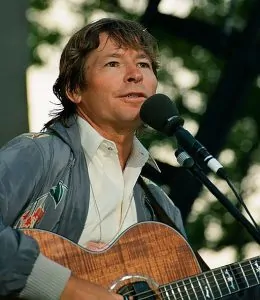 Annie's Song 
Back Home Again
Calypso
Country Roads
Darcy Farrow
Don't Close Your Eyes Tonight
For Baby
For You
Grandma's Feather Bed
Healing Time On Earth
I Guess He'd Rather Be in Colorado
I'm Sorry
I've Been Working on the Railroad
Leaving on a Jet Plane
Looking for Space
My Sweet Lady
Perhaps Love
Please Daddy
Poems, Prayers and Promises
Rhymes and Reasons
Rocky Mountain High
Some Days Are Diamonds
Starwood in Aspen
Sunshine on My Shoulders
Take Me Home, Country Roads
Thank God I'm a Country Boy
The Eagle and the Hawk
The Wings That Fly Us Home
This Old Guitar
Twelve Days of Christmas
Wild Montana Skies
You Fill Up My Senses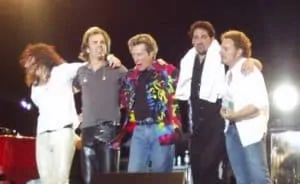 After All These Years
After the Fall
Any Way You Want It
Ask the Lonely
Be Good to Yourself
City of the Angels
Don't Stop Believin'
Faithfully
Feeling That Way
Girl Can't Help It
Good Morning Girl
I Would Find You
I'll Be Alright Without You
Just the Same Way
Lights
Lovin', Touchin', Squeezin'
Mother, Father
Of A Lifetime
Only the Young
Open Arms
Send Her My Love
Separate Ways
Still They Ride
Stone in Love
Sweet and Simple
To Play Some Music
Walks Like a Lady
Wheel in the Sky
When You Love a Woman
Who's Crying Now
Why Can't This Night Go On Forever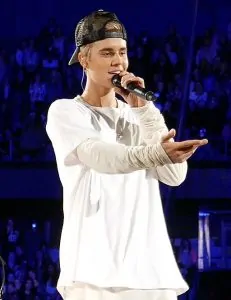 All Around the World As Long as You Love Me Baby Beauty and a Beat Boyfriend Company Despacito Eenie Meenie Love Yourself Never Let You Go Right Here Somebody to Love (Remix) Sorry That Should Be Me U Smile What Do You Mean?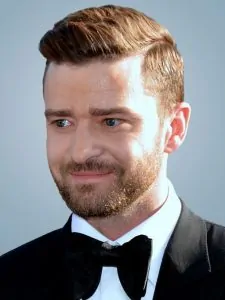 Can't Stop The Feeling! 
Cry Me a River
Drink You Away
Like I Love You
LoveStoned
My Love
Not a Bad Thing
Rock Your Body
Señorita
SexyBack
Summer Love
Take Back the Night
TKO
Until the End of Time
What Goes Around… Comes Around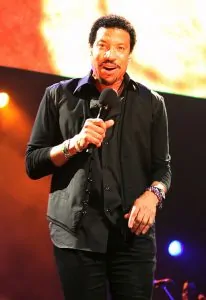 All Around the World
All Night Long (All Night)
Angel (Boogieman Remix Extended)
Ballerina Girl
Brick House
Cinderella
Closest Thing to Heaven
Dancing On The Ceiling
Deep River Woman
Do It to Me
Don't Stop the Music
Don't Wanna Lose You
Endless Love
Goodbye
Hello
I Call It Love
I Forgot
Just Can't Say Goodbye
Just for You
Just Put Some Love in Your Heart
Just To Be Close To You
Lady
Love Will Conquer All
Love Will Find a Way
Love, Oh Love
My Destiny
My Love
Oh No
Penny Lover
Round and Round
Running With the Night
Sail On
Say You, Say Me
Se La
Serves You Right
Still
Still in Love
Stuck on You
Sweet Love
Tell Me
Tender Heart
The Only One
Three Times A Lady
Truly
We Are the World
You Are
You Mean More to Me
Animals
Coldmama
Daylight
Don't Wanna Know
Feelings
Give a Little More
Goodnight Goodnight
Harder to Breathe
If I Never See Your Face Again
Love Somebody
Makes Me Wonder
Maps
Memories
Misery
Must Get Out
Never Gonna Leave This Bed
One More Night
Payphone
She Will Be Loved
Sugar
Sunday Morning
This Love
This Summer
Wait
Wake Up Call
What Lovers Do
Won't Go Home Without You
Girls Like You
Moves Like Jagger
Payphone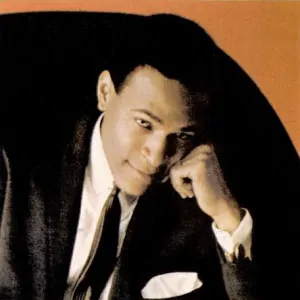 After The Dance
Ain't No Mountain High Enough
Ain't That Peculiar
Baby Don't You Do It
Can I Get A Witness
Come Get To This
Distant Lover
Flyin' High
God Is Love
Got to Give It Up, Part 1
How Sweet It Is To Be Loved By You
I Heard It Through The Grapevine
I Want You
If This World Were Mine
Inner City Blues
Just To Keep You Satisfied
Let's Get It On
Mercy Mercy Me
Pretty Little Baby
Sexual Healing
Stop Look Listen
Stubborn Kind of Fellow
That's the Way Love Is
The Onion Song
Theme From Trouble Man
Too Busy Thinking About My Baby
What's Happening Brother
What's Going On
You
You Sure Love to Ball
You're a Wonderful One
You're All I Need to Get By
A Kiss Is a Terrible Thing to Waste
All Revved Up With No Place To Go
Bat Out Of Hell 
Blind as a Bat
Dead Ringer for Love
Did I Say That
Everything Louder Than Everything Else
For Crying Out Loud
Good Girls Go to Heaven
Heaven Can Wait
Hot Patootie, Bless My Soul
I'm Gonna Love Her for Both of Us
I'd Do Anything for Love (But I Won't Do That)
I'd Lie for You
Is Nothing Sacred
It Just Won't Quit
It's All Coming Back to Me Now
Life Is a Lemon and I Want My Money Back
Los Angeloser
Lost Boys and Golden Girls
Modern Girl
More Than You Deserve
Not a Dry Eye in the House
Objects in the Rear View Mirror May Appear Closer Than They Are
Paradise by the Dashboard Light
Peel Out
Read 'em and Weep
Rock and Roll Dreams Come Through
Rock 'n' Roll Mercenaries
Seize the Night
Two Out Of Three Ain't Bad
You Took the Words Right Out of My Mouth
Bad
Beat It
Billie Jean
Black Or White
Blood on the Dance Floor
Can You Feel It
Dangerous
Dirty Diana
Don't Stop 'til You Get Enough
Earth Song
Heal the World
I Just Can't Stop Loving You
I Want You Back
I'll Be There
In the Closet
Jam
Leave Me Alone
Liberian Girl
Love Never Felt So Good
Man in the Mirror
P.Y.T.
Remember the Time
Rock With You
Shake Your Body
Smooth Criminal
The Way You Make Me Feel
They Don't Care About Us
Wanna Be Startin' Somethin'
Who Is It
Will You Be There
You Are Not Alone
You Rock My World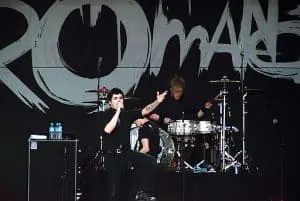 Bulletproof Heart
Famous Last Words
Helena
I Don't Love You
I'm Not Okay (I Promise)
Na Na Na (Na Na Na Na Na Na Na Na Na)
Planetary (Go!)
Sing
Teenagers
Thank You for the Venom
The Ghost of You
The Kids from Yesterday
The Only Hope for Me Is You
Welcome to the Black Parade
Because of You
Can We Chill
Closer
Coming with You
Do You
Don't Make Em Like You
Forever Now
Go On Girl
Lazy Love
Let Me Love You (Until You Learn to Love Yourself)
Mad
Miss Independent
Money Can't Buy
Part of the List
Sexy Love
She Got Her Own
She Knows
Should Be You
So Sick
Stay
Time of Our Lives
When You're Mad
Noel Gallagher's High Flying Birds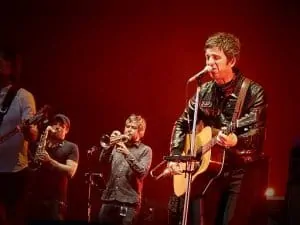 A Simple Game Of Genius
AKA… Broken Arrow
Aka… What A Life!
Ballad of the Mighty I
Blue Moon Rising
Come On Outside
Dead In The Water
Dream On
Everybody's On the Run
Holy Mountain
I'd Pick You Every Time
If I Had A Gun…
If Love Is the Law
In The Heat Of The Moment
It's a Beautiful World
Keep On Reaching
Let The Lord Shine A Light On Me
Lock All The Doors
Record Machine
Riverman
Sail On
She Taught Me How to Fly
Soldier Boys And Jesus Freaks
Stop The Clocks
The Death Of You And Me
The Dying Of The Light
The Good Rebel
The Man Who Built The Moon
The Right Stuff
The Wrong Beach
While The Song Remains The Same
Read about Noel Gallagher's High Flying Birds and listen to their music by searching Music Research Engine.
Here are the Oasis songs sung by Noel Gallagher, who is a tenor:
Don't Look Back In Anger
Magic Pie
Where Did It All Go Wrong?
Sunday Morning Call
Force of Nature
Little By Little
She Is Love
Mucky Fingers
The Importance of Being Idle
Part Of The Queue
Waiting For The Rapture
(Get Off Your) High Horse Lady
Falling Down
Alligator Sky
Beautiful Times
Deer in the Headlights
Dreams Don't Turn to Dust
Fireflies
Galaxies
Good Time
Lonely Lullaby
My Everything
Shooting Star
Umbrella Beach
Unbelievable
Vanilla Twilight
Verge
Wolf Bite
Build God, Then We'll Talk
But It's Better If You Do
Death Of A Bachelor
Do You Know What I'm Seeing?
Don't Threaten Me With A Good Time
Girl That You Love
I Write Sins Not Tragedies
Lying Is the Most Fun a Girl Can Have Without Taking Her Clothes Off
Mad as Rabbits
Miss Jackson
Nine in the Afternoon
Northern Downpour
That Green Gentleman (Things Have Changed)
The Ballad Of Mona Lisa
The Only Difference Between Martyrdom and Suicide Is Press Coverage
Another Day
Band On The Run 
Beautiful Night
Beware My Love
Bluebird
Calico Skies
Coming Up
Early Days
Ebony and Ivory
Ever Present Past
Every Night
Fine Line
Four Five Seconds
Goodnight Tonight
Heart Of The Country
Helen Wheels
Here Today
Jenny Wren
Jet
Junior's Farm
Junk
Let 'em In
Let Me Roll It
Listen to What the Man Said
Little Willow
Live and Let Die
Magneto And Titanium Man
Maybe I'm Amazed
Monkberry Moon Delight
Mull of Kintyre
Nineteen Hundred and Eighty Five
No More Lonely Nights
Oh Woman, Oh Why
Riding to Vanity Fair
Say Say Say
Silly Love Songs
Take It Away
Temporary Secretary
The Back Seat Of My Car
The Man
The Pound Is Sinking
Too Many People
Venus And Mars / Rock Show
Wanderlust
Waterfalls
With A Little Luck 
You Gave Me The Answer
Young Boy
Another One Bites the Dust
Bohemian Rhapsody
Brighton Rock
Crazy Little Thing Called Love
Don't Stop Me Now
Fat Bottomed Girls
I Want It All
Keep Yourself Alive
Killer Queen
Now I'm Here
Radio Ga Ga
Somebody to Love
Stone Cold Crazy
Tie Your Mother Down
We Are the Champions
We Will Rock You
Who Wants to Live Forever
You're My Best Friend
Under Pressure (featuring David Bowie)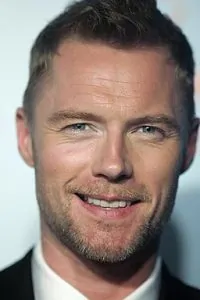 As Long As We're In Love
Baby Can I Hold You
Breathe
Father and Son
Fires
Forever Aint Enough
Forever And Ever, Amen
I Hope You Dance
I Love It When We Do
If I Don't Tell You Now
If Tomorrow Never Comes
I'll Never Fall in Love Again
Iris
Last Thing On My Mind
Let Me Love You
Life Is a Rollercoaster
Little Thing Called Love
Love Will Remain
Lovin' Each Day
My Little Red Book
One Of A Kind
Only Lovers
She Believes
Summer Wonderland
The Big Goodbye
The Long Goodbye
The Way You Make Me Feel
Think I Don't Remember
This I Promise You
This Is Your Song
Time After Time
When You Say Nothing At All
Baby, You Make Me Crazy
Burning
Dancing with a Stranger
Fire On Fire
Fix You
Giant / Promises / One Kiss
Have Yourself A Merry Little Christmas
HIM
How Do You Sleep?
I Feel Love
I'm Not the Only One
I'm Ready
I've Told You Now
Latch
Lay Me Down
Leave Your Lover
Like I Can
Make It To Me
Midnight Train
Money on My Mind
No Peace
Not in That Way
One Last Song
Palace
Pray
Promises
Restart
Say It First
Stay With Me
To Die For
Too Good at Goodbyes
Writing's on the Wall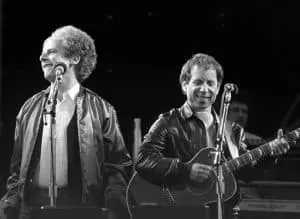 A Hazy Shade of Winter
America
April Come She Will
At the Zoo
Baby Driver
Bookends Themes
Bridge Over Troubled Water
Cecilia
El cóndor pasa
Fakin' It
Flowers Never Bend With the Rainfall
For Emily, Whenever I May Find Her
He Was My Brother
Hey, Schoolgirl
Homeward Bound
I Am a Rock
Kathy's Song
Keep the Customer Satisfied
Mrs Robinson
My Little Town
Punky's Dilemma
Save the Life of My Child
Scarborough Fair/Canticle
So Long, Frank Lloyd Wright
Song for the Asking
The 59th Street Bridge Song
The Boxer
The Dangling Conversation
The Leaves That Are Green
The Only Living Boy in New York
The Sound of Silence
Why Don't You Write Me
All I Do
Another Star
As
Boogie On Reggae Woman
Ebony and Ivory
Faith
Fingertips
For Once In My Life
Happy Birthday
Have A Talk With God
Higher Ground
I Just Called To Say I Love You
I Wish
Isn't She Lovely
Knocks Me Off My Feet
Lately
Living For The City
Love's in Need of Love Today
Master Blaster
My Cherie Amour
Never Dreamed You'd Leave In Summer
Ordinary Pain
Overjoyed
Part-Time Lover
Pastime Paradise
Ribbon In The Sky
Sir Duke
Superstition
Village Ghetto Land
Yester-Me, Yester-You, Yesterday
You Are the Sunshine of My Life
You Haven't Done Nothin'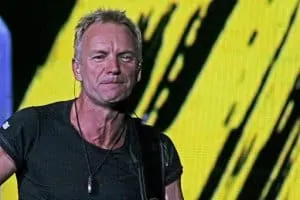 After the Rain Has Fallen
Brand New Day
Desert Rose
Englishman In New York
Fields Of Gold
Fragile
I Burn For You
I Can't Stop Thinking About You
If I Ever Lose My Faith In You
If You Love Somebody Set Them Free
Let Your Soul Be Your Pilot
Russians
Shape Of My Heart
So Lonely
The Lazarus Heart
When We Dance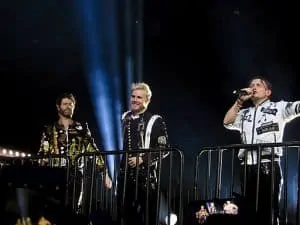 A Million Love Songs
Amazing
Babe
Back for Good
Could It Be Magic
Everything Changes
Get Ready for It
Giants
Greatest Day
Hey Boy
Hold Up a Light
How Deep Is Your Love
How Did It Come to This
I Found Heaven
Kidz
Love Ain't Here Anymore
Love Love
Never Forget
Once You've Tasted Love
Out Of Our Heads
Patience
Pray
Relight My Fire
Rule The World
Said It All
Shine
Sure
The Flood
These Days
Up
Why Can't I Wake Up With You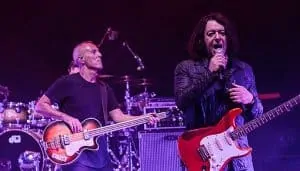 Advice for the Young at Heart
Badman's Song
Break It Down Again
Broken
Broken / Head Over Heels / Broken
Change
Closest Thing to Heaven
Empire Building
Everybody Wants to Rule the World
Goodnight Song
Head Over Heels
I Believe
I Love You But I'm Lost
Ideas as Opiates
Johnny Panic and the Bible of Dreams
Laid So Low
Listen
Mad World
Memories Fade
Mothers Talk
Pale Shelter
Sea Song
Shout
Start of the Breakdown
Suffer the Children
The Marauders
The Working Hour
Watch Me Bleed
When in Love With a Blind Man
Woman in Chains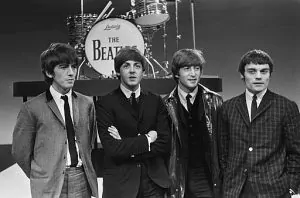 These are the songs by The Beatles that were sung by Paul McCartney or George Harrison, both of whom were tenors:
And I Love Her
Blackbird
Blue Jay Way
Don't Bother Me
Don't Let Me Down
Eleanor Rigby
For You Blue
Here Comes the Sun
Hey Jude
I Me Mine
I Need You
I Saw Her Standing There
I Want to Tell You
If I Needed Someone
It's All Too Much
Long, Long, Long
Ob-La-Di, Ob-La-Da
Old Brown Shoe
Paperback Writer
Penny Lane
Something
Taxman
The Inner Light
Think for Yourself
While My Guitar Gently Weeps
With a Little Help from My Friends
Within You Without You
Yesterday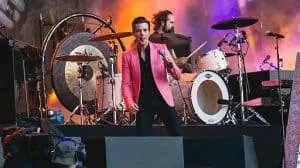 A Dustland Fairytale
All These Things That I've Done
Bones
For Reasons Unknown
Human
Mr. Brightside
Read My Mind
Smile Like You Mean It
Somebody Told Me
Spaceman
The World We Live In
When You Were Young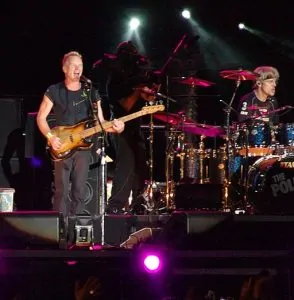 Can't Stand Losing You
De Do Do
Don't Stand So Close To Me
Every Breath You Take
Every Little Thing She Does Is Magic
Message In A Bottle
Roxanne
Walking On The Moon
Wrapped Around Your Finger
Acquainted
Belong to the World
Blinding Lights
Can't Feel My Face
Die for You
Heartless
I Feel It Coming
In the Night
In Your Eyes
Kiss Land
Live For
Love in the Sky
Often
Party Monster
Pretty
Reminder
Rockin'
Secrets
Starboy
The Hills
Wanderlust
These two songs were sung by George Harrison:
Handle with Care
Heading for the Light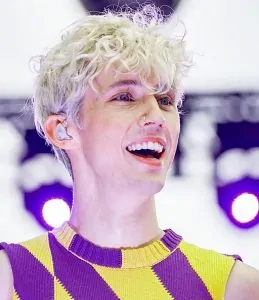 Animal
Bloom
Dance to This
Heaven
My My My!
Talk Me Down
The Good Side
Wild
Youth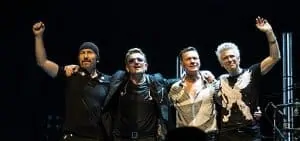 Bad
Beautiful Day
Elevation
Even Better Than the Real Thing
Every Breaking Wave
I Still Haven't Found What I'm Looking For
I Will Follow
In God's Country
Moment of Surrender
Mysterious Ways
New Year's Day
One
One Tree Hill
Please
Pride (In the Name of Love)
Stuck in a Moment
Sunday Bloody Sunday
Sweetest Thing
Vertigo
Walk On
Where the Streets Have No Name
With or Without You
Burn
Can U Help Me
Caught Up
Climax
Confessions Part II
Dive
DJ Got Us Fallin' in Love
Here I Stand
Hey Daddy (Daddy's Home)
Lay You Down
Lemme See
Lil Freak
Love in This Club
Love in This Club Part II
More
Moving Mountains
My Boo
Numb
OMG
Papers
Scream
There Goes My Baby
Trading Places
U Don't Have to Call
U Got It Bad
U Remind Me
U-Turn
What's Your Name
Yeah!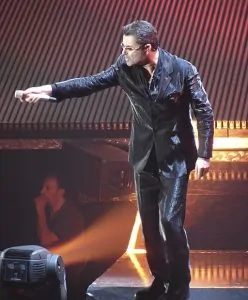 Careless Whisper
Club Tropicana
Everything She Wants
Freedom
If You Were There
I'm Your Man
Last Christmas
Like a Baby
The Edge of Heaven
Wake Me Up Before You Go-Go
Wham Rap!
Where Did Your Heart Go?
Young Guns (Go for It!)
Final thoughts on pop songs for tenors
If you're a tenor and you like singing pop songs, bookmark this page because it's your new best friend.
All that's left to say is we wish you all the best with your practise and performance.
Did we miss any tenors that you'd like to see included? Any other comments? Please have your say below.
Adam Lambert Lisa Harrington edited by @weelassie11 / CC BY-SA
Aerosmith Julio Aprea / CC BY-SA
Akon U.S. Embassy Nairobi / CC BY
Al Green Kingkongphoto & www.celebrity-photos.com from Laurel  Maryland, USA / CC BY-SA
Ben Folds Five Michael Nutt / CC BY-SA
Ben Platt Daniel Benavides from Austin, TX / CC BY
Billy Joel David Shankbone / CC BY
Bob Marley Eddie Mallin / CC BY
Bon Jovi David Shankbone / CC BY
Bruno Mars Original: Chrizta T.derivative work: TheCuriousGnome / CC BY
Bryan Adams Shayne Kaye from Victoria, Canada / CC BY
Calum Scott Olaf Kosinsky / CC BY-SA 3.0 DE
Charlie Puth LG전자 / CC BY
Chris Brown Eva Rinaldi / CC BY-SA
Culture Club Eva Rinaldi / CC BY-SA
Darren Hayes Maggz / CC BY-SA
David Gray (Kirk Stauffer) / CC BY-SA
Death Cab for Cutie Eliot Lee Hazel / CC BY-SA
Don Henley Derek Russell / CC BY-SA
Duran Duran Jelena Ivanović, EXIT Photo Team / CC BY-SA
Eagles Rachel Kramer / CC BY
Ed Sheeran Eva Rinaldi from Sydney, Australia / CC BY-SA
Elton John Richard Mushet on Flickr / CC BY-SA
George Harrison Steve Mathieson / CC BY-SA
George Michael Faithtour / CC BY-SA
James Taylor Paul Keleher / CC BY
John Denver John Mathew Smith & www.celebrity-photos.com from Laurel  Maryland, USA / CC BY-SA
Journey Dave Golland / CC BY
Justin Bieber Lou Stejskal / CC BY
Justin Timberlake Georges Biard / CC BY-SA
Labrinth Walterlan Papetti / CC BY-SA
Lionel Richie Eva Rinaldi / CC BY-SA
Maroon 5 Eva Rinaldi / CC BY-SA
Marvin Gaye Tamla / Public domain
Meat Loaf Super Festivals / CC BY
Michael Jackson Georges Biard / CC BY-SA
My Chemical Romance Michael Spencer from Perth, WA, Australia / CC BY
Ne-Yo Timothy M. Moore / CC BY-SA
Noel Gallagher's High Flying Birds Drew de F Fawkes / CC BY
Oasis Will Fresch / CC BY-SA
Owl City Kevin from New york, United States / CC BY
Panic! at the Disco pitpony.photography / CC BY-SA
Paul McCartney Raph_PH / CC BY
Queen See above. Compilation by Fronteira / CC BY-SA
Ronan Keating Eva Rinaldi / CC BY-SA
Sam Smith © pitpony.photography / CC BY-SA
Savage Garden Maggz Appleton, CC BY-SA 3.0, via Wikimedia Commons
Shawn Mendes Cosmopolitan UK / CC BY
Simon & Garfunkel Nationaal Archief / CC BY-SA 3.0 NL
Stevie Wonder Kingkongphoto & www.celebrity-photos.com from Laurel  Maryland, USA / CC BY-SA
Sting paveita / CC BY
Take That Marc E. / CC BY
Tears for Fears Raph_PH / CC BY
The Beatles Eric Koch, Nationaal Archief, Den Haag, Rijksfotoarchief: Fotocollectie Algemeen Nederlands Fotopersbureau (ANEFO), 1945-1989 – negatiefstroken zwart/wit, nummer toegang 2.24.01.05, bestanddeelnummer 916-5098 / CC BY-SA 3.0 NL
The Eagles Jorge isury, cropped by Senhordopoder / CC BY-SA
The Killers Raph_PH / CC BY
The Police Beatrice Murch from Buenos  Aires, Argentina / CC BY
The Weeknd Pedro Mora / CC BY
Traveling Wilburys Steve Mathieson / CC BY-SA
Troye Sivan Ted Eytan from Washington, DC, USA / CC BY-SA
U2 U2start / CC BY
Usher Georges Biard / CC BY-SA
Wham! Yves Lorson from Kapellen, Belgium / CC BY